Last month it was announced that Sonoma County, a region of California's wine country in Northern California, was to be home to a huge new floating solar farm by 2016.
The Sonoma County Project
The project developer, San Francisco based Pristine Sun, will be installing 12.5MW worth of panels across six ponds filled with treated sewage water owned by Sonoma County Water Agency. The maximum output capacity of the solar farm will be enough to cover the needs of approximately 3000 Californian homes [1].
The Sonoma County floating solar farm would be the second largest in the world behind Japan's 13.4MW floating project in Yamakura Dam reservoir which was announced in December 2014 but due to come online in March 2016 [2]. However this is looking likely to change, after the announcement that Brazil is planning an ambitious 350MW floating array. The nation announced late in March 2015 that within four months it would start pilot testing for a solar farm on top of the Balbina hydroelectric plant in the Amazon.
Floatovoltaics Elsewhere
The Sonoma Valley project will not be the first of its kind in California. In fact, the first large-scale floating solar farm was built in another region of the wine country, Napa Valley back in 2011.
Floating solar farms or – as they're known by some – "floatovoltaics" appear to be taking off on a global scale. Already there have been photovoltaic (PV) arrays of this kind in countries including the United Kingdom (UK), India and France.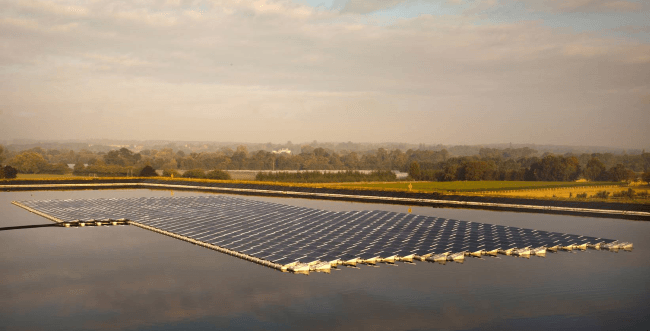 Figure 1: Floating panels in the UK
Aside from Brazil, floatovoltaics are a hot topic in Australia where construction has begun on the country's first installation of this kind. Situated in Jamestown the project is due to be completed any day now.
References
[1] Huge Floating Solar Project Being Developed In California — To Be Largest In US Once Completed, James Ayre, Cleantechnica (Last Accessed 09/045)
[2] Japan to Build World's Biggest Floating Solar Farm, Julia Pyper, Greentechsolar (Last Accessed 09/04/2015)
Image accreditation: Sheeplands Farm, UK, floating solar farm, image by "Floating Solar UK Ltd" – image cropped and resized from original.