You won't have seen one of these in the UK before, but you may do in the future. The UK's first floating solar photovoltaic (PV) array at Sheeplands Farm near Wargrave became operational last month.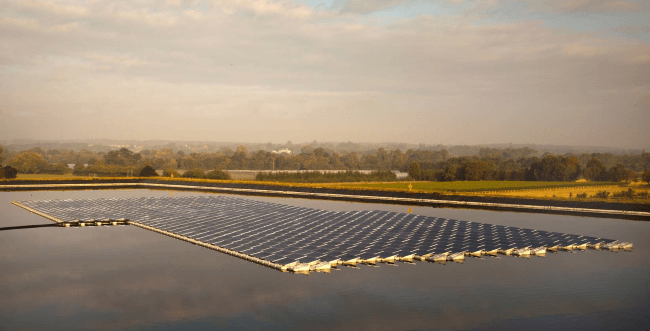 The 200kW project, which received planning consent in June, cost £250,000 and is expected to pay for itself within six years.
Glare was "not considered to be an issue" for this development in the planning report. One reason for this was that the panels were to be located on water, which is a highly reflective surface anyway.
The array was installed on an irrigation reservoir by Floating Solar UK, which company set up by Sheepsland Farm owner Mark Bennett. He hopes that through the company he will be able to distribute more of this technology to others.
Floating Solar Farms Outside of the UK
Although the Sheeplands Farm array was the flagship project for the UK, this is not the case for the rest of the world. Already floating solar technology has been tried elsewhere, including India, France and Japan.
The world's largest floating solar array will soon be installed in Japan, on Lake Nishihira. Construction has already begun and it will have a total capacity of 1.7MW.
If you're considering developing a ground based solar project in the UK, would you consider an aquatic alternative? We'd love to know your views.
image accreditation: Sheeplands Farm, UK, floating solar farm, image by "Floating Solar UK Ltd" – image cropped and resized from original.