Last month Vikram Solar successfully installed India's first floating solar plant as part of a trial project.
The PV solar manufacturing firm, who has headquarters in are Kolkata, wanted to test their new PV module technology intended to be deployed on bodies of water.
About the Solar Plant
The country's first floating solar plant was the result of collaboration between Vikram Solar and Arka Renewable Energy College.  It consists of ten fibreglass 1kW PV modules located on a lake in Kolkata's New Town [1]. During its estimated 25 year life span, the plant is set to produce at least 14MWh per year (approximately equivalent to 8.24 barrels of oil (US) [2]).
According to Greentech Lead, "the power generated would be supplied to the West Bengal State Electricity Development Corporation Ltd." [3]
Other Floating Solar Plants
Vikram Solar's Kolkata project is not the first of its kind in the world. Japan already hosts an 850kW floating Photovoltaic plant in Hyogo, which began operating in October 2014. The land constrained country that is rich in reservoirs has also announced plans to host the world's largest floating array (in terms of output) by March 2016. The project will be located East of Tokyo on the reservoir of the Yamakura Dam, consisting of 50,000 photovoltaic (PV) panels and power almost 5,000 homes [4].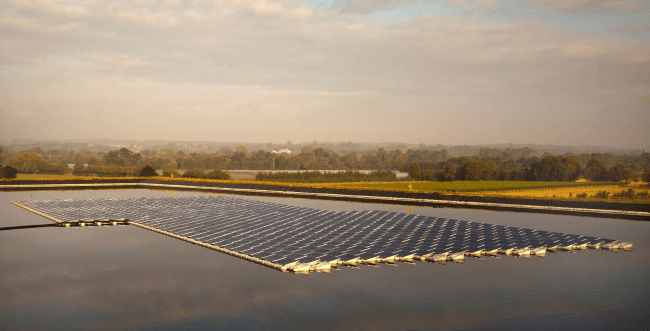 Elsewhere, almost 5,800 miles away, the first floating solar array in the UK that was installed late in 2014, on an irrigation reservoir on a farm in Berkshire. As seen above.
References
[1] Vikram Solar Completes India's first floating PV Plant, PV Magazine (Last Accessed 02/02/2015).
[2] Unit Converter, TranslatorCafe, (Last Accessed 02/02/2015).
[3] Vikram Solar commissions India's first floating PV solar plant, Greentech Lead (Last Accessed 03/02/2015).
[4] Solar Panels Floating on Water Will Power Japan's Homes, Bryan Lufkin, National Geographic (Last Accessed 03/02/2015).