The working principle of solar photovoltaic (PV) panels is to capture the Sun's energy and convert it into electricity. The panels do not require direct sunlight to work and can also produce electricity on cloudy days. However, the larger contributor to electricity generation is direct Sunlight [1].
Solar PV panels can produce electricity from diffused solar radiation too. The measure of diffuse solar radiation is called albedo. The albedo value expresses the ratio between the diffuse reflection of solar radiation and the total solar radiation. This value ranges between 0 (all incident radiation is absorbed) to 1 (all incident radiation is reflected) with a black body having an albedo value of 0 and snow having a value close to 1 [2].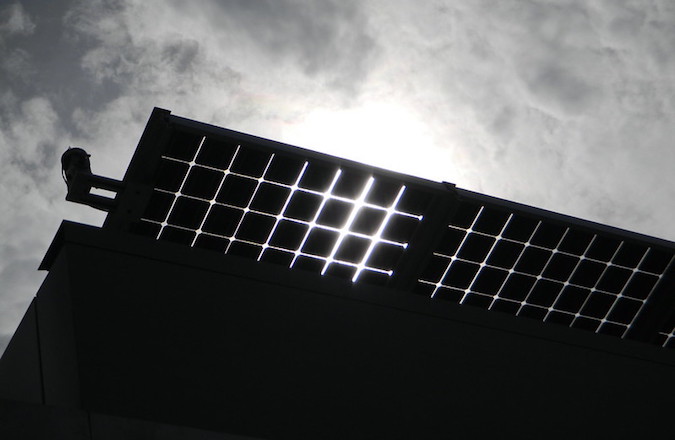 Figure 1: Bifacial Solar Panels. [3]
Bifacial PV Solar Panels
To capture more reflected sunlight, the industry has improved further bifacial solar panels. This technology implements a transparent frame to enables the capture of sunlight on both sides of the panel. This type of panels has become more popular in recent years due to a reduction of production costs and higher efficiency. When installed near highly reflective surfaces (high albedo value) bifacial solar panels have higher performances. In certain scenarios the panels can produce up to 30% more electricity when compared against the more mainstream option [4].
Reflective Membrane
Following the above principle, a German company has developed a membrane that reflects ultraviolet (UV) rays and can be deployed below the bifacial panels to boost their efficiency and energy production. 
This membrane can increase the albedo of the surface below a PV power plant by circa 70%, allowing more light to reach the rear side of bifacial modules.
The company claims the membrane can increase the energy yield of a bifacial PV project by between 5% and 20%, depending on the plant configuration reducing the levelised cost of energy (LCOE) reduction of circa 2% to 5%.
This type of technology has been used on a large-scale project in the Middle East and it is predicted to add $0.024/W to capex costs [5].
About Pager Power
Pager Power undertakes technical assessments for developers of renewable energy projects and tall buildings worldwide. For more information about what we do, please get in touch.
References
[1] Solar panels, energy saving trust, n.d., accessed on: 15/03/2023.
[2] Albedo, Wikipedia, n.d., accessed on: 15/03/2023.
[3] Mike Lee, 25/09/2009 on flickr.com. Last accessed on: 15/03/2023. Available at: https://www.flickr.com/photos/curiouslee/3954036785/
[4] WHAT ARE BIFACIAL SOLAR PANELS?, deegesolar, date: 01/03/2022, accessed on: 15/03/2023.
[5] Reflective membrane to increase albedo, power yield in bifacial PV projects, Emiliano Bellini, date: 03/02/2023, accessed on: 15/03/2023.