Background
Global solar PV capacity is increasing steadily, and the demand remains strong across both developed and developing economies[1]. Despite a contraction of circa 32 GW from the expectations, the new installed global solar capacity in 2020 was circa 112 GW. The contraction was due to the impact of COVID-19 and the extended lockdown on the global economy. However, solar capacity is expected to grow significantly from 2021 thanks also to the fact that solar power is entering new markets[2].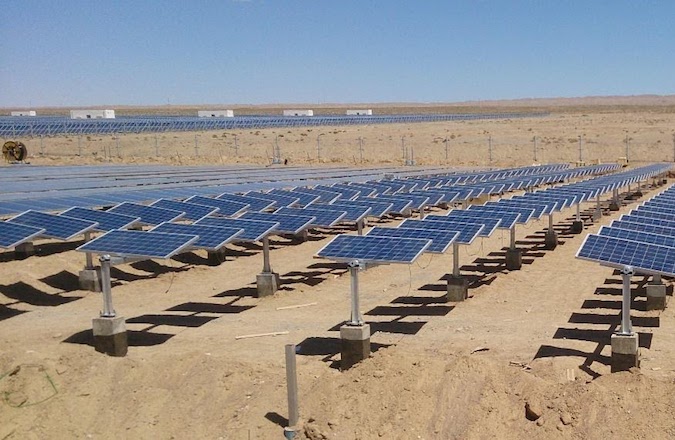 Figure 1:Horizontal Single Axis tracker with Tilted Modules[3].
Solar Tracking Panels 
To maximise the power generated solar panels need to be perpendicular to the sun's rays. Since the sun position varies during the day and season this is hardly achieved by PV solar panels mounted on a fixed structure. Optimal panel's inclination is achieved or partially achieved by using a tracking mounting system. 
Tracking system are divided into two categories depending on the degree of freedom and these are: single-axis and dual-axis tracking. While panels mounted on a single-axis tracking system will have one degree of freedom (tilting on a horizontal axis) the dual axis will have two degree of freedoms (tilting on both horizontal and vertical axis). 
The Benefits
Implementing such technology has led to enhanced power output compared to fixed mounting systems (25-30% increment in power output), especially in sunny areas closer to the equator, and has solved the issue of the solar "power bell" where production of energy was maximum at a single moment in time during the day. In fact, solar farm which implement tracking mounting system will produce full power for most of the day[4]. 
Furthermore, when tracking systems are the mounting system for bifacial solar panels (a technology set to take off soon[5][6]) the energy production of the solar development rise by 3% to 10% depending on the development and geographical location[7]. 
The Growth
The share of solar tracking panels is still significantly lower compared to the fixed system; however, it is increasing at a rapid pace. While in 2017 the global demand for tracking systems was 14.5 GW out of a total 104 GW of new solar capacity (14%)[8], in 2018 the global demand was 25 GW of the total 103GW installed that year (24%) [1]. Furthermore, it is expected that the solar tracking market will expand at a compound annual growth rate (CAGR) of 32.0% between 2019 and 2025[9]. 
The United States are currently the largest individual market for single-axis trackers. However, shipments also increased in Mexico, Australia, Egypt, Spain, and the strongest growth was recorded in the Middle East and North Africa[10]. Furthermore, solar tracking systems have become the norm for utility-scale PV developments in southern European regions[11].
Conclusion
Solar developments implementing tracking systems are becoming more common due to a fall in price of panels and the implementation of bifacial technology. These factors have led to higher energy production and lower levelized cost of electricity. The increment in tracking systems is expected to be more dramatic in regions with good solar resource and areas closer to the equator. 
About Pager Power
Pager Power has a strong experience in assessing glint and glare generated by solar power plants and can help developers to determine the impact upon nearby receptors such as: nearby road users, residential amenity, aviation activity and railway infrastructure.  For more information about what we do, please get in touch.
References
[1] RENEWABLES 2020 GLOBAL STATUS REPORT, REN21, date: n.d., last access: 30/12/2020.
[2] Despite COVID-19 bright global solar forecast, PV Europe, date: 17/06/2020, last access: 30/12/2020.
[3] Photo of Suntrix tracker project in Xitieshan, China. Commissioned in July 2014, Vinaykumar8687, date: 01/07/ 2014, last access: 31/12/2020.
[4] Changing shape of solar power: How tracking technology killed the solar bell curve, Sophie Vorrath, date: 05/02/2019, last access: 31/12/2020.
[5] Bifacial solar plants can generate 7% higher returns, US model shows, Reuters, date: 15/05/2019, last access: 05/01/2021.
[6] Qatar expands bifacial PV tests as data shows 10% output gains, Reuters, date: 18/09/2019, last access: 05/01/2021.
[7] Discussing bifacial project economics, Jerry Crescenti, date: 19/02/2020, last access: 05/01/2021.
[8] Solar tracker, Wikipedia, n.d., last access: 05/01/2021.
[9] Solar Tracker Market Size, Share & Trends Analysis Report By Technology (Solar PV, Concentrated PV, Concentrated Solar Power), By Product (Single Axis, Dual Axis), By Application, By Region, And Segment Forecasts, 2019 – 2025, GVR, date: 11/2019, last access: 05/01/2021.
[10] A record year for trackers, Camron Barati, date: 19/11/2019, last access: 05/01/2021.
[11] Global Market Outlook For Solar Power / 2019 – 2023, get.invest.eu, n.d., last access: 05/01/2021.