Agrivoltaics is the practice of using the same area of land for both solar photovoltaic power as well as for agriculture, which implies that solar panels and crops will share sunlight. This was discussed in our previous article: "Agrivoltaics: Combining Agriculture With Solar Power".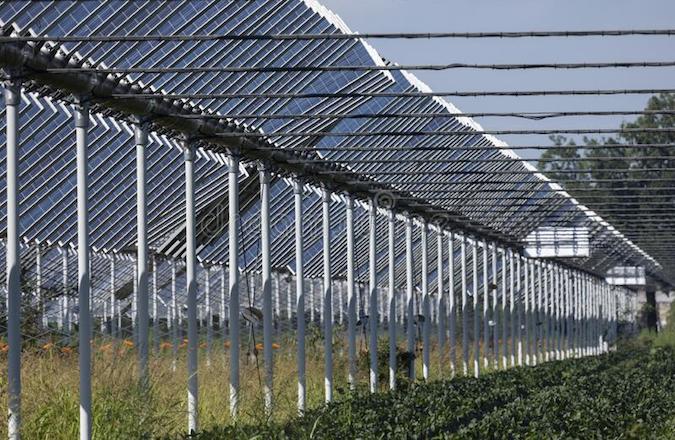 Figure 1: Agrivoltaic systems with fixed solar panels on agricultural greenhouses. [1]
Agrivoltaic in Europe
A few agrivoltaic projects have been built in Europe. Currently in Germany there are trials to pair the production of electricity with the production of pears and apples. This technology is predicted to see a boost in Germany thanks to new "innovation tenders". In the Netherlands a 2.67 MW agrivoltaic system is currently operational on a raspberry farm in Babberich [2]. In Italy the first agrivoltaic plant of 1MW was built in 2011. Now the same farmer is planning to build an 8GW agrivoltaic plant [3]. 
There is potential for further deployment of agrivoltaic in Europe. A study from Aarhus University have estimated that the potential capacity for agrivoltaic in Europe is 51 TW, which would result in an electricity yield of 71,500 TWh/year. However, the area eligible for agrivoltaic is unlively distributed across Europe [4].
About Pager Power
Pager Power undertakes technical assessments for developers of renewable energy projects and tall buildings worldwide. For more information about what we do, please get in touch.
References
[1] Roberto Dani (6th October 2021), last accessed on: 08/08/2023. Available at: https://www.dreamstime.com/agrivoltaic-agrivoltaics-agrophotovoltaics-co-developing-same-area-land-both-solar-photovoltaic-power-as-well-image228971220
[2] Agrivoltaics a global trend, PV Europe, date: 04/04/2022, accessed on: 08/08/2023.
[3] Agrivoltaico e sostenibilità: in Puglia si fa la storia e si crea comunità, infobuildenergia, date: 28/02/2023, accessed on: 08/08/2023.
[4] New research identifies potential for 51 TW of agrivoltaics in Europe, Marija Maisch, accessed on: 08/08/2023.