Background
The ban on sale of new petrol and diesel cars has officially been confirmed to take place in 2030!
This comes after the initial announcement made in 2017; by then-environmental secretary, Michael Gove, with the initial date set of 2040. In detail, this means new cars with any kind of internal combustion engine (ICE) would be banned from sale by 2030 in the UK. 
The Government confirmed enforcing the ban sooner than initially planned is necessary for the UK to achieve its target of emitting zero carbon by 2050. Alongside this, Prime Minister, Boris Johnson announced that "our green industrial revolution will be powered by the wind turbines of Scotland and the North East, propelled by the electric vehicles (EVS) made in the Midlands and advanced by the latest technologies developed in Wales, so we can look ahead to a more prosperous, greener future."
The ban of new petrol and diesel cars will also affect vans, however there are no details yet in regard to the types of hybrid vans which will be exempt from the 2030 ban. Meanwhile, sale of used petrol and diesel cars will not be affected by the ban.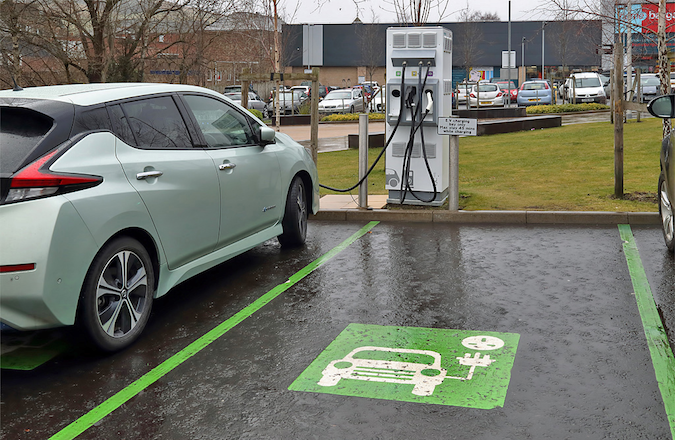 Figure 1: An electric car charging point at Galashiels, Great Britain[7]
What will happen now?
New plug-in electric hybrids (PHEVS) will be given a stay of execution until 2035, on the condition they are capable of covering a "significant distance" in zero-emission mode; a term yet to be confirmed by the government.  

New plug-in hybrids will remain in showrooms for another five years, before being outlawed in 2035. 

Conventional hybrids will remain on sale until 2035, as long as they are capable of achieving the "significant distance" zero-emission distance. 

After 2035, the only cars and vans that can be sold will be pure electric ones, such as the Tesla Model 3 and Nissan Leaf, as well as any hydrogen-powered cars, such as the Toyota Mirai.
Several manufacturers already committed to ending pure-ICE sale. Bentley recently announced that it will sell only electric cars from 2030, while Volvo is committed to only offering electric or plug-in hybrid models from 2025.[1] 
Currently, the top cheapest electric cars available include the Smart EQ fortwo, starting from around from £17,350 and Skoda Citigo-e iV, starting from around £17,455 (both including the government grant. These are still relatively more expensive than pterol/diesel cars, as well as being far smaller and therefore potentially less particle than petrol/diesel cars available within that price range.[8]
In the UK, a total of 75,946 new electric cars have been sold in 2020 alone [3], which accounts for 5.5% of the total 1,384,601 cars sold in the UK in 2020. This is a great increase in demand for electric cars, which was just 1.3% in 2019.[4]
What are the funds to support this ban?
The ban is part of the wider £12 billion 'Green Industrial Revolution' plan, which the Government hopes will create 250,000 jobs due to the country investing in more battery technology, carbon capture, and green energy. 
To facilitate the transition from fossil-fuel cars, the investment will include: 
£1.3 billion invested in EV chargeable points for homes, streets and motorways across England. 

Further £582 million set aside for grants to help people into EVs and PHEVS. 

£500 million invested in battery development and mass production. 

£525 million will be designated for the nuclear power plants, partly to help meet the demand for electricity, which the growing number of EVs will bring. 
The government has already funded one battery development centre in Coventry; the UK Battery Industrialisation Centre, set to be operational next year.[2]
Actions taken by other countries
Germany, Ireland and the Netherlands also aim to ban non-electric cars from being sold as of 2030, with France aiming for 2040. Meanwhile, Norway intends on achieving this by 2050, although around 50% of cars sold in the country are already electric.
Conclusion
While the news of the ban has received a relatively positive feedback, there are areas of concern, mainly surrounding the cost of electric cars. Even with the £3,000 grant that electric cars quality for, in general electric cars are still much more expensive than non-electric cars. A petition calling for the ban to be reconsidered has currently reached 6,428 signatures as of 15th December 2020.[5]
Meanwhile, the British Vehicle Rental and Leasing Association (BVRLA) welcomed the Government's decision. The chief executive, Gerry Keaney advised that "Setting these phase-out dates is just the start of the journey, now the Government needs to create the supportive environment that will enable fleets and motorists to step up to the challenge of decarbonising road transport," he said. "It won't be easy, and it won't be cheap."
About Pager Power
Pager Power undertakes technical assessments for developers of renewable energy projects and tall buildings. For more information about what we do, please get in touch.
References
[1] Griffiths, H (December 2020), 2030 petrol and diesel ban: what is it and which cars are affected?, Auto Express
[2] Which Car? (November 2020), New petrol and diesel cars to be banned from 2030
[3] Attwood, J (November 2020), Official: Government to ban new petrol and diesel car sales in 2030, Autocar
[4] Porter, A. (November 2020), 2030 ban of new petrol and diesel cars: what will it mean for you?, Which?
[5] Gov UK (December 2020), Scrap the proposed ban on new petrol and diesel cars
[6] Roberts, G. (November 2020), New petrol and diesel car and van ban confirmed, Fleet News
[7] Author: Baxter, W. (February 2019), An electric car charging point at Galashiels, Great Britain, Geograph. [Accessed: December 2020].
[8] Adam, P. (July 2020), The cheapest electric cars on sale, Auto Express