It is widely known that wind turbines are subject to radar and aeronautical issues that could prevent their construction. But is the worst place for a UK wind turbine the middle of the northern runway at London Heathrow Airport?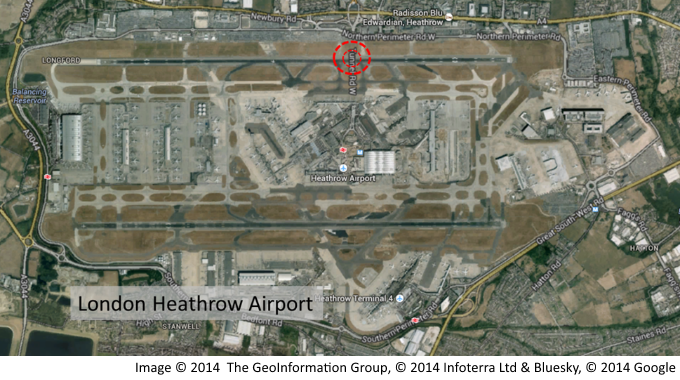 UK Aviation Risk Map and Calculation of the Aviation Risk Level
We have created a UK map derived from our national radar and aeronautical risk dataset having over 950,000 records and built up from our work over the last decade. The map plots the aviation risk level for 500m spacing all over the UK.
Risk level is a score calculated by assessing wind turbine visibility to civil, military and meteorological radar.  A wind turbine that will be seen by multiple radar could be considered a riskier investment compared to one that will be well hidden from all nearby radar.
Aeronautical safeguarding impacts for airports, minor airfields and airbases have also been considered.
Aeronautical and Radar Risk for Fictional Heathrow Turbine
Considering no other factor apart from the risk of a wind development encountering potentially costly aeronautical and radar issues, a project at Heathrow could not get much worse.
Consulting our UK map of aviation risk, Heathrow has the highest overall risk level. Meaning that the likelihood of project failure and time delays due to aeronautical and radar conflict is the highest in the country.  Furthermore, the cost of resolution of these issues would be expected to be high.
The highest risk region is in England, with wind turbines in North Lincolnshire, North Somerset, Surrey, Cheshire West and Hertfordshire most likely to face objections. Other very high risk locations are RAF Northolt and Spadeadam in Cumbria.
Wind turbines can be built in areas deemed risky for aviation issues. For example we have worked with developers on a project for two small wind turbines just north of Heathrow. In addition, the Whitelee wind farm has a computed risk level of 71 and was subject to years of delay and the multi-million pound cost of three new radar. However, comparing this to the lower risk site of the original Dun Law wind farm, computed risk level of 32,  it was unaffected by radar delays or costs.
The lowest risk levels appear in Scotland and Wales with developments in Perth and Kinross, Argyll and Bute, Angus, Conwy and Neath Port Talbot least likely to have radar and aeronautical issues.
Incorporation of Operational Risk for Fictional Heathrow Turbine
Whilst our aeronautical and radar risk data objectively shows that the worst place in the UK for a wind turbine would be the northern runway at Heathrow, taking into account airport operation changes this. Heathrow has more than one runway meaning that, even though not at all ideal, it already has the available infrastructure to redirect air traffic if needed. So it would be worse to place a wind turbine on the centre of a single runway airport such as Birmingham.
Conclusions
When planning your wind investments it is helpful to understand the project risk from aviation issues; even knowing that England generally has higher risk than Scotland and Wales can help.
Even though areas of lower risk (e.g. risk score < 30) may be more desirable initially, higher risk areas (e.g. risk score > 55) can still be considered but may require further due diligence work.
Radar and aeronautical risk maps and data focus wind investments on projects that are more likely to be successful.
Contact Pager Power to find out how our maps, assessments and data could make your investment programme more effective.