Pager Power is creating a fundraiser event for its colleagues, in support of humanitarian aid for those affected by the war in Ukraine. With the sunflower growing season looming, we have decided to incorporate a competition of growing the tallest sunflower by October this year.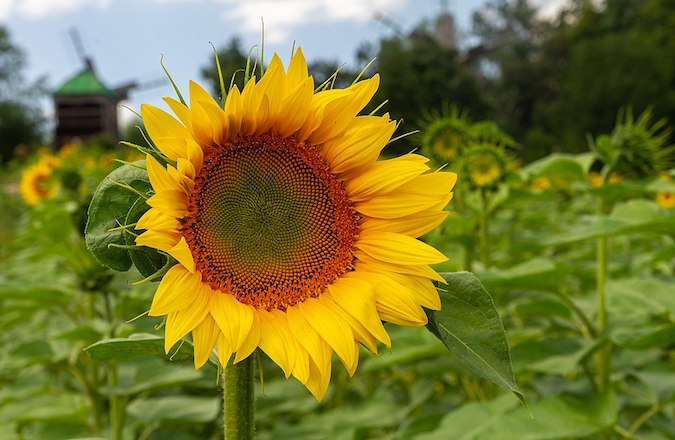 Figure 1: Sunflowers at Museum of Folk Architecture and Ethnography in Pyrohiv, Kyiv, Ukraine (March 2019). [4]
The connection between our plan of growing sunflowers and supporting Ukraine's humanitarian aid is due to the sunflower being Ukraine's national flower. Last year, Ukraine was the world's largest source of sunflower oil, accounting for around a third of global production [1]. The sunflower has become much more for Ukraine since the Russia's invasion, becoming the symbol of resistance against the country's invasion by Russian forces. Its exuberant and lively form represents the antithesis of the destruction now being suffered by the Ukrainian people [2]. Sunflowers are also a powerful symbol of hope for the future; as seeds germinate to cover the ground each spring, the flower buds trace the movement of the sun from east to west, and the flowers face the rising sun each new day. 
The Charity Event
The rule of the competition is very simple, entrants must make a donation and plant a sunflower seed in an attempt to grow the tallest possible sunflower. The winner will be decided by measuring who has grown the tallest sunflower in the time allowed (photo proof will be required, so stay tuned to see the results). 
Organisations Helping Ukraine
We do not want to wait until October to make our donations, therefore we are currently collecting donation from the Pager Power team and giving it as soon as possible.
As we aim to provide donations for humanitarian aid at the earliest opportunity, Pager Power employees will get to choose which of the below charity organisations they would like the donations to go towards:
Disasters Emergency Committee (DEC): Donations to the DEC helps fund 15 leading aid charities and their local partners in Ukraine and neighbouring countries to provide urgent relief and support to refugees and displaced nationals. So far, a huge £202 million has been raised, which will help provide food, water, shelter, and medical assistance. https://donation.dec.org.uk/ukraine-humanitarian-appeal 
Red Cross – Ukraine: Working on the ground in Ukraine, the Red Cross are helping to distribute urgent aid and resources to those in need. They're asking for donations to help carry out their work, especially as they say, "at any moment the situation may get worse, the consequences of which may be unpredictable." https://redcross.org.ua/en/donate/ 
Voices of Children: This charitable Voices of Children foundation provides immediate aid to families affected by the invasion. It then additionally works with children to recover from the psychological traumas of war. Part of this includes art therapy and mobile psychologists. https://voices.org.ua/en/donat/ 
Kyiv School of Economics Appeal: The country's capital and it's population are on the frontline of invasion, having been subjected to terrible shelling and missile strikes from Russia. The Kyiv School of Economics (KSE) have teamed up with Ukrainian businesses and state-owned companies to provide on-the-ground humanitarian aid during this devastating time. "The aim is to provide food supplies, transportation, refugees help for Ukrainian citizens affected by the war and purchase necessary medicines, first aid and protective kits for the State Emergency Service of Ukraine, Ukrainian Paramedic Association, and the Ukrainian Territorial Defence Forces to shield them against Russian aggression," their website states. https://kse.ua/support/donation/ 
United Help Ukraine: United Help Ukraine is a charity that "provide medical aid and humanitarian relief" whilst also raising awareness of the current conflict. They also have a programme called Wounded Warrior which helps soldiers with rehabilitation post-war. https://www.paypal.com/donate/?cmd=_sxclick&hosted_button_id=FAXD9R7CFB4SJ 
About Pager Power
Pager Power undertakes technical assessments for developers of renewable energy projects and tall buildings. For more information about what we do, please get in touch.
References
[1] Waxman, O. (Mar 2022), What to Know About the Meaning of Sunflowers in Ukraine, Time.
[2] Bailey, M. (Mar 2022), Sunflowers: the symbol of Van Gogh—and Ukraine, The Art Newspaper.
[3] Buckley, Y. (Mar 2022), Sunflowers in a war zone: the importance of the symbolic flower to Ukraine, The Irish Times.
[4] Kozlenko, M. (Mar 2019), Sunflowers at Museum of Folk Architecture and Ethnography in Pyrohiv, Kyiv, Ukraine. Accessed via: https://commons.wikimedia.org/w/index.php?search=sunflower+ukraine&title=Special:MediaSearch&go=Go&type=image.