Energy concerns have dominated the news in recent months, in particular energy security as a result of Russia's invasion of Ukraine, and energy bills driving the cost of living upwards. Renewable energy is an important tool in not only fighting the climate crisis, but the energy crisis in general as wind and solar are by far the cheapest energy sources, according to Jess Ralston, who is a senior analyst at the Energy and Climate Intelligence Unit [1].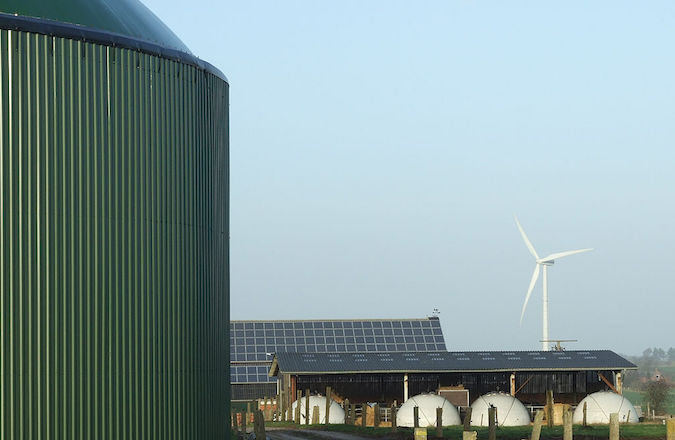 Figure 1: Renewable Energy [2]
A YouGov survey undertaken on behalf of the Energy and Climate Intelligence Unit earlier this year found that 73% of Conservative Party members supported solar power, including ground-mounted solar farms. 71% supported new offshore and onshore wind energy, and 85% supported home energy efficiency measures [1]. This indicates a strong support for green energy from within the Conservative Party membership. 
However, the two Conservative MPs who are current vying for the leadership of the party, and consequently the role of prime minister in the UK, have both recently made confusing statements on their proposed green energy policies which have drawn backlash from the renewable energy industry.
Points of concern
Liz Truss has said that she would "strip out" green levies on energy bills, effectively removing support for technologies that aim to reduce and ultimately remove the country's reliance on fossil fuels . In reality these levies form a very small proportion of the huge energy bills that could arrive in April, and are in fact a part of the long term solution to rising energy bills. 

In July, Rishi Sunak set out an 'energy sovereignty strategy' which aims to achieve UK energy independence by 2045. However, in the same announcement he said he would scrap plans to relax the planning rules around new onshore wind farms, and focus more on offshore wind (which tends to be more expensive and time consuming to build) as well as other strategies. 

More recently both of the candidates have found common ground in an assault on solar panels on farms. Rishi Sunak has pledged that under his leadership "We will not lose swathes of our best farmland to solar farms" and Liz Truss has said that she wants to see farmers producing food from farmland, not filling fields with solar farms.
The truth about solar on farmland
The reality is that farmers in the UK are certainly struggling, and in need of support and reform. However solar panels on some land types can actually help the farmers as well as support the move towards renewable energy. Some of the main advantages are:
Solar panels can raise biodiversity by allowing land to recover from crop production;

They can provide shelter from the sun for livestock, as well as land

. There is increasing interest in agrivoltaic panels which are designed in such a way that they harvest solar energy and promote the growth of crops by providing shade, thus helping to retain moisture in the soil. This could be significant given the recent very strong droughts in parts of the UK and worldwide.

Solar panels can help farmers balance their incomes, because energy prices often peak at times when food yields are low. 
According to Solar Power Portal, even if every solar farm that is currently proposed was built, this would still account for less than 0.4% of the agricultural land in the UK, and 0.28% of the UK's entire land area [1]. Over 80% of the public would be happy with or not mind having a ground-mount solar development in their local areas, according to a survey undertaken by the Department for Business Energy and Industrial Strategy (BEIS) [3]. An estimated 82% of Sunak's supporters endorsed "a new generation of solar energy", while 71% of Truss supporters did the same [1].
Conclusions
The renewable energy industry is growing, but not fast enough to avoid the climate crisis facing the planet. This will be one of the many challenges facing the new prime minister, and one of the most important. It looks like the introduction of new solar farms and onshore wind developments is to be slowed under the new leadership and it will be interesting to see if and how the new government will compensate for this with other renewable energy initiatives.
About Pager Power
Pager Power has a strong experience in assessing glint and glare generated by solar power plants and can help developers to determine the impact upon nearby receptors such as: nearby road users, residential amenity, aviation activity and railway infrastructure.  For more information about what we do, please get in touch. 
References
[1] M. Lempriere, "Three-quarters of Conservative Party members support solar power," Solar Power Portal, 29 July 2022. [Online]. Available: https://www.solarpowerportal.co.uk/news/three_quarters_of_conservative_party_members_support_solar_power. [Accessed 26 August 2022].
[2] F. G. (Nawaro), Wikimedia Commons, 11 January 2007. [Online]. Available: https://commons.wikimedia.org/wiki/File:Biogas_Photovoltaik_Wind.jpg. [Accessed 26 August 2022].
[3] M. Lempriere, "Over 80% of public happy with solar in their local areas in 'ringing endorsement' of technology," Solar Power Portal, 8 July 2022. [Online]. Available: https://www.solarpowerportal.co.uk/news/over_80_of_public_happy_with_solar_in_their_local_areas_in_ringing_endorsem. [Accessed 26 August 2022].
[4] I. Bourke, "Rishi Sunak and Liz Truss are turning green energy into a culture war," The New Statesman, 19 August 2022. [Online]. Available: https://www.newstatesman.com/quickfire/2022/08/sunak-truss-scapegoating-green-energy. [Accessed 26 August 2022].
[5] P. Walker, "Sunak accused of 'economic illiteracy' over pledge to block onshore windfarms," The Guardian, 20 July 2022. [Online]. Available: https://www.theguardian.com/politics/2022/jul/20/rishi-sunak-accused-economic-illiteracy-pledge-block-onshore-windfarms. [Accessed 26 August 2022].