Solar Farm Speed Record
The Sekdoorn solar project in the north of the Netherlands is interesting for a few reasons. For one, it's another example of a floating solar park, which in itself offers some advantages over land-based options including efficient use of space and the fact that solar panels are more efficient at cooler temperatures. The development is the third floating solar park that BayWa and GroenLeven have built in the country and it has a capacity that supply almost 4,000 homes. The most remarkable thing, though, is that it was built in just six weeks.
Timescales
Timescales are important to any project. Solar schemes can be held up at various stages, not least in planning. Being able to roll out the actual panels efficiently is potentially one less headache for solar developers.
The Sekdoorn project boasts advanced design features that allowed this rapid rollout. However, more conventional solar systems can spring up relatively fast. The Adani Group's solar site in Tamil Nadu, India, covers 10 square kilometres and was built in eight months in 2017. At the time, it set the record for capacity at 648 Megawatts.
Solar Records
Solar continues to do well as a renewable energy option. In 2019, the world's largest solar power plant, in Abu Dhabi, was reportedly switched on, the UK marginally surpassed its previous generation record in May and the worldwide solar installations recorded a record high.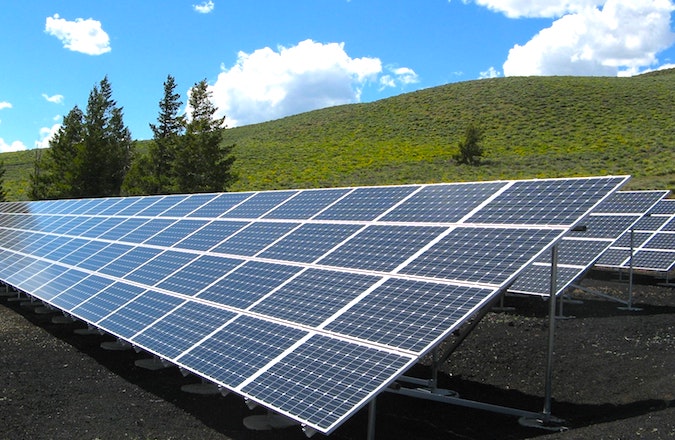 References
[1]BayWa r.e. (May 2019), BayWa r.e. builds Netherland's biggest Floating Solar Farm (https://www.baywa-re.com/en/news/details/baywa-re-builds-netherlands-biggest-floating-solar-farm/), BayWa r.e.
[2](February, 2017), India Just Broke a World Record With Its New Solar Farm, (https://futurism.com/india-just-broke-a-world-record-with-its-new-solar-farm), World Economic Forum.
[3]Parnell, J (June, 2019), World's Largest Solar Power Plant Switched On, (https://www.forbes.com/sites/johnparnell/2019/06/29/worlds-largest-solar-power-plant-switched-on/#303337ae161a), Forbes.
[4]Hill, T (May 2019), High sun: Solar soars to new generation peak (https://www.forbes.com/sites/johnparnell/2019/06/29/worlds-largest-solar-power-plant-switched-on/#303337ae161a), Business Green.
[5]Heggarty, T (July 2019), Global Solar Installations to Reach Record High in 2019 (https://www.greentechmedia.com/articles/read/global-solar-pv-installations-to-reach-record-high-in-2019), Green Tech Media.
Image accreditation: https://www.pexels.com/photo/black-and-silver-solar-panels-159397/