What's new?
Wind farms in northern Germany are shutting down for long periods due to their impact on new military radar with significant cost and environmental implications – with lost generation revenues of around 5000 Euro per month per turbine.
Background
Wind turbines affect aeronautical radar which means that airport and defence authorities often oppose wind farm developments resulting in wind development being prevented. Pager Power has been helping wind farm developers manage and resolve wind farm radar interference issues throughout the world since 2002.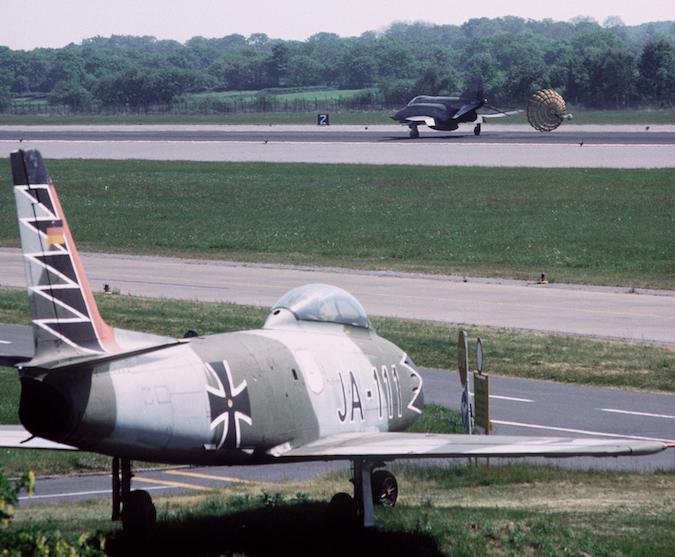 Wittmund Military Base: Northern Germany – where there are many wind farm radar interference issues.
Mitigation
Radar mitigation reduces wind farm radar interference which can then enable previously opposed wind farm developments to be approved and built. There are many possible radar mitigation solutions including fitting radar filters, optimising the wind farm layout and changing air traffic operations.
Controlled Shutdowns
Controlled Shutdown Mitigation involves stopping the wind turbines rotating so that they do not affect the radar when aircraft are being controlled nearby. This mitigation can be effective when the wind turbines' effects can be tolerated most of the time with the wind turbines being shut down occasionally for short periods.
Implementation Issues
This form of mitigation has often been explored but not subsequently implemented. This is due to the issue of who has control of the wind farm's operation. Should it be the radar operator or the wind farm owner?
Radar operators are naturally concerned they cannot stop the turbines quickly, frequently or for sufficient time. Similarly wind turbine operators are concerned about the loss of generation and the consequent inability to predict income. In practice this can make it impossible to finance and develop wind farms subject to Controlled Shutdown Mitigation.
Practical Solutions
Nevertheless, these issues have been resolved effectively in the United Kingdom and Germany. For wind farms affecting civil radar in the United Kingdom contractual arrangements have been used whilst for wind farms affecting military radar in Germany technical arrangements have been successful. The two approaches are compared in the table below: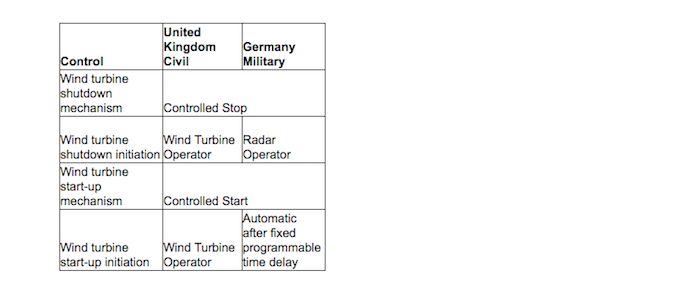 Operational Experience
Experience in Germany was that the total wind turbine shut-down time has been less than expected. The German system gives the radar operator greater control and results in a reduced overall wind turbine shutdown time. The UK system ensures that wind turbine projects can be financed more readily because there is an absolute cap on annual shut-down hours.
ASR-S Radar
Older analogue radar at German airbases have recently been decommissioned and replaced with newer digital ASR-S (Aerodrome Surveillance Radar – Series) supplied by Airbus Defence and Space. These newer radar appear to be more adversely affected by wind turbines than the older radar they replaced.
One of the most affected airbases is Wittmund in northern Germany. It is understood that wind turbines need to be stopped for a significant time period to eliminate wind farm radar interference effects.
This means wind turbine shutdown times have increased from around 30 hours up to around 100 hours per month. This has led to a significant reduction in electricity generation, income, profit and environmental benefits.
Further Information
If you think we may be able to help you with radar interference or aeronautical objections please call Mike Watson for a confidential no obligation discussion on 00 44 1787 319001 or email mike@pagerpower.co.uk
More information regarding the automated shutdown systems can be found (in German) at the websites below:
http://www.denkerwulf.de/flightmanager/
Image accreditation: https://upload.wikimedia.org/wikipedia/commons/e/e6/Canadair_Sabre_JA-111_at_Wittmundhafen_1989.JPEG