When a route between London and Australia was set up in 1947, the journey required seven stops and lasted a total of four days – nicknamed the 'Kangaroo Route' due to the many stops. Fast forward 75 years and Qantas is planning to introduce the world's longest direct route from London to Sydney, covering 10,560 miles (16,994 kilometres) in just 20 hours. The plan has been named 'Project Sunrise'.
Project Sunrise
The Australian based airline, plans to establish long-haul direct travel from almost any city in the world, including London and New York, in as early as 2025. "It's the last frontier and the final fix for the tyranny of distance that has traditionally challenged travel to Australia" Qantas Group CEO Alan Joyce said in a statement [1].
The statement from Alan Joyce explains why Qantas has tried to establish these long-haul flights, and change how people travel across the world, for so many years. It could be argued the birth of Project Sunrise started as far back as 2017 when a direct flight from London to Perth was initially launched. Since then, test flights from Sydney to London and Sydney to New York have been undertaken as 'research flights' to understand whether the plan is possible. 
Project Sunrise would not be possible without the new Airbus A350-1000, focusing largely on space and comfort due to the length of flights they will make. 12 planes have currently been ordered, with purchase right options for an additional 94 planes through to at least 2034 [2].
An overview of the features on the new Airbus is shown in the image below.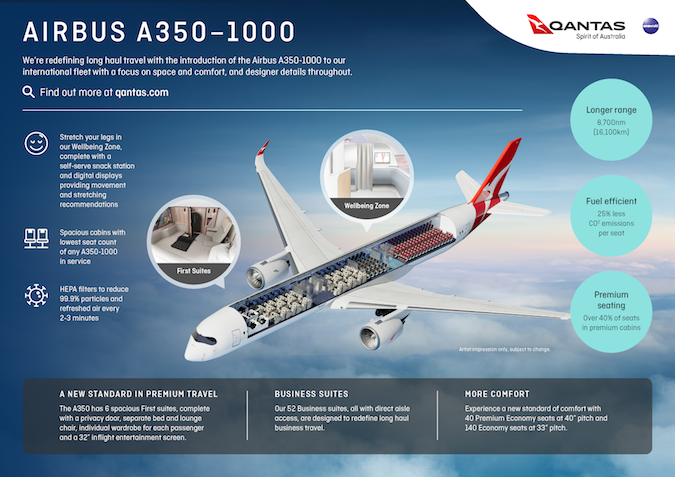 Figure 1: Airbus A350-1000 [3]
Conclusion
The term 'the world is getting smaller' is by no means a recent phenomenon; however, perhaps with the establishment of ultra long haul flights, the term has never been more relevant. A direct route to anywhere in the world will no doubt be positive for international tourism, business travellers, and anyone visiting friends and family abroad.
About Pager Power
Pager Power undertakes technical assessments for developers of renewable energy projects and tall buildings. For more information about what we do, please get in touch.
References
[1] Qantas, 2022. QANTAS ANNOUNCES PROJECT SUNRISE AIRCRAFT ORDER FOR NON-STOP FLIGHTS TO AUSTRALIA. [online] Qantas News Room. Available at: <https://www.qantasnewsroom.com.au/media-releases/qantas-announces-project-sunrise-aircraft-order-for-non-stop-flights-to-australia/> [Accessed 24 May 2022].
[2] Lackey, B., 2022. Direct London to Sydney flights in under 20 hours from 2025. [online] Mail Online. Available at: <https://www.dailymail.co.uk/news/article-10774593/London-Sydney-20-hours-worlds-longest-DIRECT-flight-2025.html> [Accessed 24 May 2022].
[3] Qantas, 2022 Media Releases. Available at: https://www.qantasnewsroom.com.au/media-releases/qantas-announces-project-sunrise-aircraft-order-for-non-stop-flights-to-australia/
Thumbnail image accreditation: Fin Gabriel (August 2020) from Usplash.com Last accessed on 25th May 2022. Available at: https://unsplash.com/photos/HpFJjpPxNZg