We are very pleased to welcome Jacob Cunningham to the growing Pager Power technical team; Jacob joined us on the 13th March, and has been enjoying his first few months with us. He recently finished studying for a degree in Economics at the University of Bath and has joined the company as a Technical Analyst. As well as studying Economics, Jacob has demonstrated a strong technical capability in his pre-degree qualifications, his degree work and also at his interview with Pager Power. Before that, Jacob completed his A-Levels in Maths, Physics, and Economics.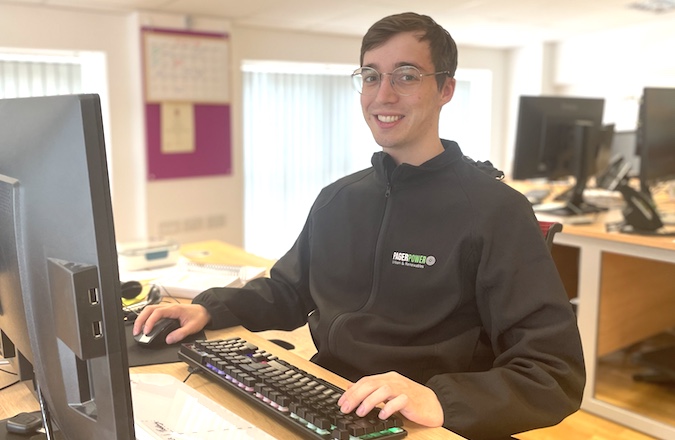 Outside his academic career, Jacob enjoys climbing and hiking with friends and family, and during his school years rose to Corporal Rank in the Combined Cadet Force of the RAF. 
Asked about his thoughts on his first couple of months at Pager Power, Jacob responded:
I have enjoyed the learning curve which seems just right to me, keeping me on my toes without feeling overwhelmed. I look forward to undertaking more complex work and in other areas beyond glint and glare for solar developments. 
It is exciting to be part of a growing team within a company that doesn't stand still. It satisfies me that my work has real-world implications, and working within the renewable energy sector is personally rewarding to me. 
Pager Power is growing consistently as it expands its business and as renewable energy development grows in the United Kingdom and worldwide. Jacob will strengthen the existing team of seven technical analysts who report to Operations Director, Danny Scrivener.
As a new Technical Analyst, Jacob started in-house training, leading on to undertaking some simpler technical assessments with the support of his colleagues. Since joining the company, Jacob has already undertaken 12 Glint and Glare assessments pertaining to impacts upon road safety, residential amenity, and aviation activity; in particular, Jacob has completed work across the United Kingdom, Ireland and Finland. Jacob is now moving on to other areas of assessment, specifically telecommunications.
We believe Jacob is well suited to this role due to his excellent background in technical skills and his ability to work well with his colleagues and communicate effectively. We now look forward to seeing Jacob grow within the team, absorbing the wealth of knowledge from his colleagues, whilst also sharing his own skills and experiences. We are pleased to welcome Jacob on board!
About Pager Power
Pager Power undertakes technical assessments for developers of renewable energy projects and tall buildings worldwide. For more information about what we do, please get in touch.