The Scottish Government has confirmed in August 2022, plans to ensure all new homes and properties are fitted with low carbon alternatives to gas boilers. This comes following an announcement from the government, stating its plans to ban the installation of fossil fuel-powered boilers in all new homes in Scotland from 2024 [1], which directly emit carbon. 
The ban on fossil fuel heat systems is one of several measures set out in the second part of a Scottish consultation on the New Building Heat Standard. The feedback is expected later this year in October, which will discuss the ban of direct emissions heating systems in new domestic and non-domestic buildings. The ban will also apply to existing buildings being converted.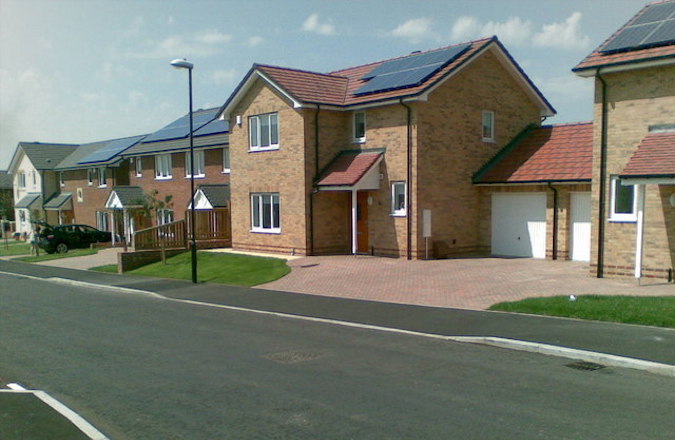 Figure 1: New Houses. [4]
What does the Research Confirm so far? 
The Scottish Government commissioned independent research which looked at identifying different options which could be considered compliant with the New Building Heat Standard. The research was undertaken by ClimateXChange (CXC) advisory group, which listed the below as systems which can be installed under the NBHS proposal: 
Heat pumps

Heat networks

Solar thermal and solar thermal storage systems

Electric storage heaters

Electric boilers 

Fuel cells
Based on the research, direct electric heaters, such as fan heaters, thermal fluid-filled radiators, and radiant heaters are also considered compatible with the new standards.
The Scottish Governments' Reservations
While the consultation established the many various options in which homes can be heated in Scotland going forward, reservations against bioenergy have been raised by the Scottish Government. The research concluded that bioenergy and biofuels do not have a "significant long-term role in providing heat in buildings", as it still emits greenhouse gas at the point of use. Concerns were also raised in research about the impact of ensuring a sufficient supply of bioresources to meet demand for possible use in heating. 
The consultation document stated that "Our approach is to see bioenergy used where it has the greatest value in reducing emissions, and where the value of wasted bioresources can be harnessed efficiently – therefore, we have established a Bioenergy Policy Working Group which will consider these issues before publishing a Bioenergy Action Plan in 2023."
What can This Mean for the Future of Sustainability?
The ban of fossil-fuel powered boilers in Scotland will allow for a smoother road towards Net Zero. It is an important step to commence improvement of the carbon footprint which domestic and non-domestic buildings hold in the current global warming crisis. If adopted, the timetable for ending the installation of gas boilers in new Scottish homes would mark an acceleration on similar plans adopted by the Westminster government, which would effectively ban gas boilers for new build homes from 2025 [2]. 
Decarbonisation of homes is beginning to attract interest across the world, with policy makers across Europe and the United States introducing legislation supporting building decarbonising. 
This includes changes to: 
Building code requirements

Bans on gas connections to new buildings

Emissions limits (with financial penalties for noncompliance
Meanwhile, in Germany the country's coalition agreement states that by 2025, all newly installed heating systems must operate with at least 65% renewable energy [3].
Within a short time, we are likely to hear about more countries following this procedure to improve the sustainability of new builds and developing existing builds to meet the criteria of reaching Net Zero. 
About Pager Power
Pager Power undertakes technical assessments for developers of renewable energy projects and tall buildings across the world. For more information about what we do, please get in touch.
References: 
[1] Merrett, N. (1st August 2022), Scotland proposes 2024 new build ban on natural gas boilers, Ambitious proposals 5
[2] Rolt, A. (2nd August 2022), Scotland to ban fossil fuel powered boilers in new homes from 2024, Business Green.
[3] Gustav Bolin, Ann Hewitt, Blake Houghton, Charlie Jersey, and Evan Polymeneas, (25th Jul 2022), Building decarbonization: How electric heat pumps could help reduce emissions today and going forward, McKinsey.
 [4] McGregor, A. (27 June 2011), New houses, Avon Crescent, with solar panels, Sunderland. Accessed via Wiki Images: https://commons.wikimedia.org/wiki/File:New_houses,_Avon_Crescent,_with_solar_panels_-_geograph.org.uk_-_2505087.jpg