Background 
Solar energy in UK has seen a significant growth despite the end of the Feed In Tariff (FIT) in 2019 and the pandemic in 2020. During the first quarter of 2021, 175 MW have been deployed by the UK. The great majority (70%) of this added capacity is made up by ground-mounted solar parks. From the 31st of March 2020 to the 31st of March 2021, circa 660 MW of new capacity was installed in the UK; and potentially by the end of the year 1GW can be delivered [1].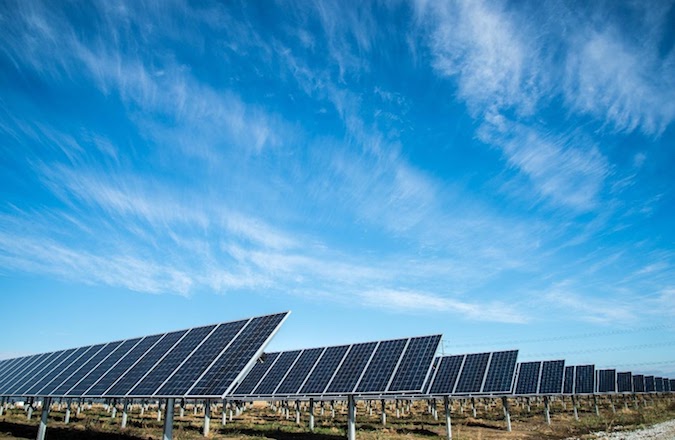 Figure 1: Solar Farm. [4]
The NIMBY problem
Large scale developments will deliver electricity at a lower cost therefore developers prefer these types of developments compared to the small-scale ones. In May 2020 Cleve Hill Solar Park, a 350MW site spread across 900 acres in Kent, was approved. This solar development was the first to be classified as a "nationally significant infrastructure project". Three other large sites have applied for planning permission, and it is expected that this decade will see another 10 sites going ahead in the UK. 
With more large developments coming to life, more land is covered by panels, exacerbating the landscaping impact. These large solar developments are becoming an issue and they are receiving significant backlash from the local population. 
While the public understands the issue of climate change, people living nearby proposed solar farms are strongly against them, NIMBYs (Not In My Back Yard) are quiet vocal and they are concerned about biodiversity loss or they fear that batteries might go up in flames.
The most ambitious UK projects tend to receive a significant amount of negative feedback. Polling carried out by a protest group in one case found that 98% of residents are against plans for such development near their town. This despite solar farms producing no pollution or noise. When interviewed, locals said they would prefer a nuclear power station because it will bring jobs to the area [3]. 
Moving Forward
Teething problems are inevitable for the industry as it moves to the next stage of large-scale development. Pager Power has been supporting the industry as a leader in glint and glare studies aimed at identifying and resolving potential concerns that solar developments can cause.
About Pager Power
Pager Power undertakes technical assessments for developers of renewable energy projects and tall buildings. For more information about what we do, please get in touch.
References
[1] UK expands solar capacity to 14 GW in 2021 first quarter, nicholasnhede, date: 17/04/2021, accessed on: 24/06/2021. 
[2] Lincoln Electric Systems, Lincoln Nebraska, date 20/10/2017, accessed on: 24/06/2021.
[3] Solar power's NIMBY problem, The Economist, date: 20/02/2021, accessed on: 24/06/2021.
[4] American Public Power Association (October 2017) from Unsplash.com. Last accessed 28th March 2022. Available at: https://unsplash.com/photos/XGAZzyLzn18