A time for reflection
"Christmas is a season not only of rejoicing but of reflection." – Winston Churchill
As we approach the end of the year, many will be looking to make the most of the festive period and to forget that 2020 ever happened. With hopes that the Pfizer vaccine, implemented last week in the UK, will result in a fall in deaths related to the COVID-19 pandemic, the prospects for a turnaround in 2021 may be on the horizon. However, the long-term economic impact of lockdown restrictions is yet an unknown quantity, the effects of which may be felt for generations to come.
Despite the new norm of WFH (working from home) CO2 emissions are ever rising. Recent news that a virtual climate summit of 'more than 70 world leaders ended with few new commitments on greenhouse gas emissions[1] despite warnings by the UN Secretary General that governments have focused their attention on economic stability at the cost of the environment. 
"The recovery from COVID-19 presents an opportunity to set our economies and societies on a green path in line with the 2030 Agenda for Sustainable Development.
But that is not yet happening.
So far, the members of the G20 are spending 50 per cent more in their stimulus and rescue packages on sectors linked to fossil fuel production and consumption, than on low-carbon energy." – UN Secretary General at Climate Ambition Summit 2020.
For many the environmental impact of the festive period will feature very low on their Christmas lists. However, for those of us seeking to reduce our own carbon footprint through individual consumer choice rather than waiting on governments to act, let us reflect on the options that are available this Christmas.
Eco-friendly Christmas Options
Individual food choices (especially meat, dairy, and chocolate) can have a significant environmental impact. In response to the rise in those seeking to increase their consumption of plant-based choices, "according to research carried out for the Vegan Society, 26% of Britons plan to eat more plant-based foods this Christmas, continuing the trend of eating less meat during lockdown"[2], supermarkets have responded with many options. 
For those looking for something novel and interesting rather than a traditional nut loaf, there are interesting alternatives to the traditional centrepiece of a Christmas dinner. Alternative meat-free options include Quorn's 'Meat-free roast', Tesco's 'Plant Chef Meat Free Soya Roast', Aldi's 'Vegan No Turkey Roast' or for those seeking something a bit different Waitrose has a 'Vegan Beet Wellington'.
Mince pies can be found for those on a vegan diet or looking to reduce their consumptions of dairy – Asda's 'Free From Mince Pies' or 'Oggs Luxury Handmade Mince Pies' can be found at Sainsbury's.
Meat-free alternatives to the traditional 'pigs in blankets' are available supermarkets such as Sainsbury's 'Plant Pioneers Pups in Blankets', Waitrose 'Vegan No Pigs in Blankets', Marks and Spencer's 'Plant Kitchen No Chorizo Pigs in Duvets', and Morrison's 'Vegan No Pigs In Blankets'.
For those looking to finish off their Christmas celebrations with a dessert that does not involve dairy, palm oil, or chocolate, the 'Mindful Bites Veganettone' available at Marks and Spencer's (a Panettone that avoids these higher impact ingredients) may be the choice to seek out.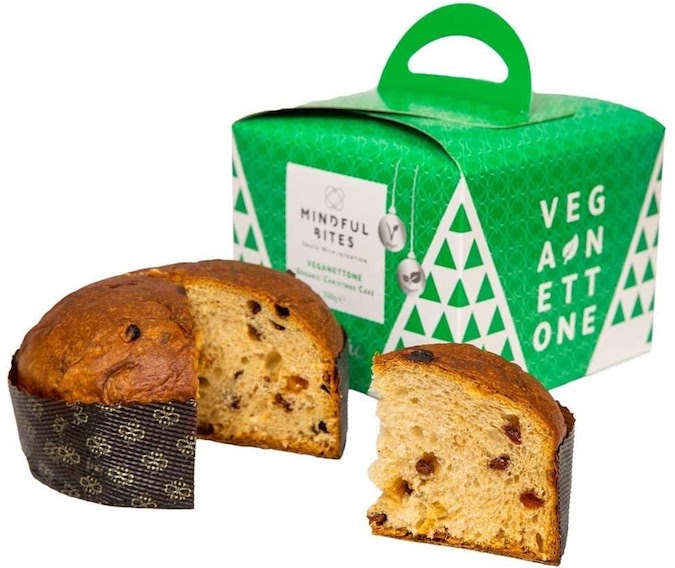 Figure 1: Mindful Bites Veganettone.
Finally, for those looking for sustainable Christmas clothing gifts 'People Tree' provide many options for women and 'Will's Vegan Store' provides clothing and shoes for men and women where many of the materials used are recycled and the delivery of your goods are certified Carbon Neutral.
Conclusions
Whilst many will not take a second thought for environmental reflection and seek to make the most of the festive celebrations following a disappointing 2020, there are many attractive festive options supermarkets are providing for those wanting to reduce their intake of meat and other foods which are generally associated with high CO2 emissions. Alternatively, the new year can be an option for new beginnings and Veganuary in 2021 may be a route for those looking for a post-Christmas change which will reduce one's environmental impact.
About Pager Power
Pager Power undertakes technical assessments for developers of renewable energy projects and tall buildings. For more information about what we do, please get in touch.
References
[1]https://www.theguardian.com/environment/2020/dec/12/world-is-in-danger-of-missing-paris-climate-target-summit-is-warned
[2]https://www.theguardian.com/business/2020/dec/12/veganattone-and-no-turkey-crowns-its-a-merry-vegan-christmas-for-uk-retailers