Single use plastic items, such as cotton buds, cutlery and polystyrene cups have been used for years, but unfortunately, they also stick around for years. Referring to a previous article [1], less than a fifth of all plastic waste is actually recycled globally, and the plastic that isn't recycled, can take somewhere between 450 to 1,000 years to decompose in landfill. Even then, they leave microplastics that absorb toxins and continue to pollute the environment.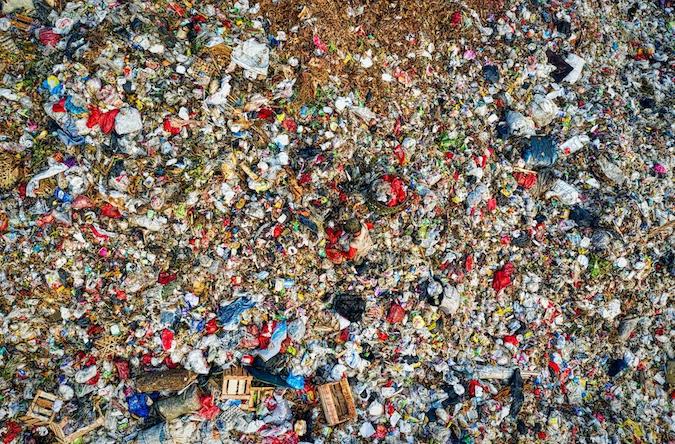 Figure 1: Plastic in landfill. [3]
In 2022, a ban on some single use plastics was introduced, including:
Plastic straws

Plastic stirrers

Plastic cotton buds
This has helped to pave the way for new bans on single use plastic items in the future and the most recent ban from January 2023 means that the following items are no longer allowed:
Polystyrene cups

Plastic cutlery

Plastic food containers

Plastic balloon sticks
What is included in England's single use plastic ban?
From the 1st of October 2023, shops restaurants and takeaways won't be able to supply, sell or offer certain types of single use plastic items to customers and will face possible fines and criminal charges if they don't comply with the new rules. The new ban also means that businesses won't be able to supply these items even if they have stock left over from before the ban and includes all types of single use plastics, including biodegradable, compostable and recycled, to rule out plastic altogether with these items. The Government hopes that along with these bans, they can eliminate all "avoidable plastic waste" by 2042. [2]
It has also introduced restrictions on single use plastic plates, trays, and bowls but takeaways will still be able to use containers, trays and wraps if they are pre-filled, or filled at the point of sale. Shelf ready pre-packaged food items are also excluded from the new rules. Businesses can still give you a polystyrene lid on your coffee cup providing the cup itself isn't made from plastic.
The government has admitted that they are planning to ban all plastic packaging later down the line but haven't set a date as of yet. 
What do the next steps need to be?
Some would argue that we are a still a long way off from where we need to be, as all single use plastic items need to be banned. Things like:
Fruit and vegetable plastic packaging 

Plastic bottles for drinks such as fizzy drinks and fruit juices 

Crisp packets, biscuits, and sweets

Plastic wrapping for Flowers

Plastic packaging for Raw meat
The other step would be to actually recycle all plastic, so that none of it ends up in landfill or our oceans.
Further ways we can reduce our single use plastic consumption
Buy and use a reusable water bottle instead of buying single use plastic bottles of water.

Buying loose fruit and vegetable items that are not in plastic packaging.

Taking a travel mug to your coffee shop for your drinks.

Reusing bags for life, hessian bags and tote bags for your shopping instead of buying new bags every time.
About Pager Power
Pager Power undertakes technical assessments for developers of renewable energy projects and tall buildings worldwide. For more information about what we do, please get in touch.
References
[1] https://www.pagerpower.com/news/could-we-be-on-the-brink-of-solving-our-plastic-problem/ 
[2] https://www.euronews.com/green/2023/10/02/england-bans-single-use-plastic 
[3] Image of plastic in landfill. Photo credit: Tom Fisk. Accessed 31/10/2023 from Pexels.com. Available at: https://www.pexels.com/photo/bird-s-eye-view-of-landfill-3174348/