We can all feel a bit helpless and overwhelmed when it comes to global issues regarding natural disasters such as droughts, wildfires, and hurricanes, they can even lead us to have eco-anxiety. 
Looking a bit closer to home is one of the best ways of navigating the way we deal with the current climate crisis, and the county of Suffolk, UK has motives to start small within its communities and lead by example in its climate change projects, charities and events.  
Just before the UK's lockdown, in 2019, Suffolk's Local Authority members each declared a climate emergency. As part of this, Suffolk Climate Change Partnership (SCCP) which consists of all of Suffolk's Local Authorities, and the partnership behind 'Creating the Greenest County', provided an umbrella for many existing projects. SCCP is working together with partners across the county and region towards the aspiration of making the county of Suffolk carbon neutral by 2030 [1].
The task to progress towards a carbon neutral future within Suffolk has grown substantially in the last few years alone. One key project includes Babergh and Mid Suffolk District Council installing £2.8m worth of green energy measures at their leisure centres – providing the centres with renewable energy and slashing CO2 emissions.
To achieve carbon neutrality, 62% of green house gasses (GHG) emissions reduction must come from either behaviour change with technology or behaviour change alone.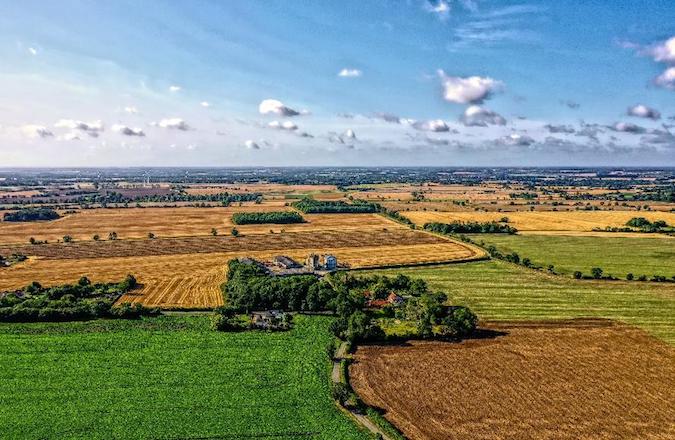 Figure 1: Suffolk drone flight looking to the east, Haleswoth, UK.
What is being done to 'Create the Greenest County'?
According to the Suffolk Climate Emergency Plan, they have identified over 100 actions to work towards achieving carbon neutrality, spread across five sectors: 
Collaborative action; 

Sustainable homes; 

Low carbon transport; 

Industrial and commercial energy use; and 

Cleaner power.
Another project, situated in Bury St Edmunds, involved a battery the size of a shipping container, made from 24 recycled electric vehicle batteries. The project was installed at Mildenhall Hub, which includes a new school and leisure facilities including new pools, a health centre, and a library space for public sector partners [3]. 
Collectively the GHG emission savings from the technologies being installed at Mildenhall Hub amounted to 200 tonnes in 2021 and 2,300 tonnes over the 20-year lifetime for the plant – the equivalent of taking 820 cars off the road. 
Local Events and Building and Eco-Friendly County Communities
Just as lockdown measures were easing off in 2021, an eco-market with a crafty twist called 'Green Sunday's' was introduced to the market town of Sudbury in Suffolk [4]. 
The monthly spring and autumn event was put together to encourage people to shop locally, not only to help the local economies but to also reduce lorry and air miles, as every online order with a multinational company can carry hundreds, if not thousands of air and road miles. 
Sudbury's high street is already almost 70% independent and many of their businesses are committed to producing or sourcing what they sell as locally as possible.
A host of stallholders sell sustainable, handcrafted, and homegrown goods, from gifts, flowers, plants to vegetables, bread, soaps, cleaning products, refills and more. 
Each market offers a range of free hands-on creative activities from making wildflower seed bombs, crafting your own bug house, painting with natural plant dyes to upcycling old clothes and furniture. They also host vegetable swop shops at their autumn events and partner with a charity called Cycling UK to offer free Dr Bike workshops.
There are also several charities and groups across Suffolk acting against climate change including Suffolk Wildlife Trust and Extinction Rebellion. Each group is unique in the projects they offer but promote sustainability and the need to reduce carbon footprints [5]. 
Education
Schools can play a crucial role in helping the UK to cut carbon emission levels, whilst at the same time raising awareness of its importance to children, staff, and families.
According to Solar for Schools [7], schools have the power to prevent 625,000 tonnes of CO2 from entering the atmosphere and a typical high school in Suffolk spends £70,000 a year on energy bills, a school could save 10% of this by implementing no cost/low-cost measures. This could mean a saving of £7,000 per year [6].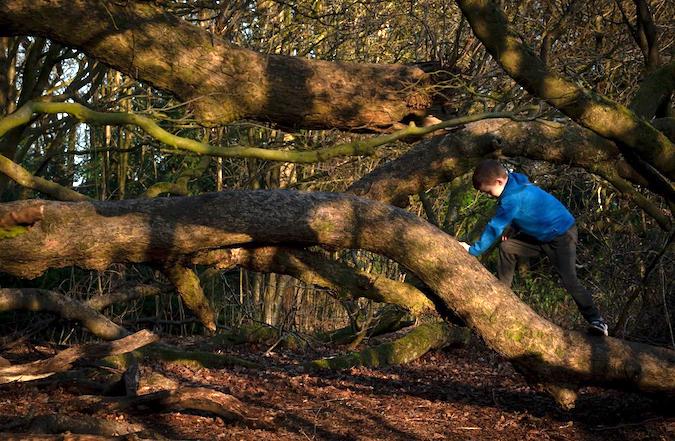 Figure 2: Child climbing tree, Haigh Hall, Wigan, UK.
For people who are interested in how they can live a carbon neutral lifestyle there is an unincorporated association in Bury St Edmunds called Happy Planet Heroes which provides information on petitions, local policies, and national initiatives that members can get involved with. Formed in 2019, this group holds monthly meetings where they:
Learn about carbon living.

Encourage members to calculate their ecological/carbon footprint and pledge an action to reduce it.

Encourage local and national policy makers to take more urgent and effective action on the climate and ecological crisis we are facing.

The founders of the group have also started producing their own podcasts with tips to live a more sustainable lifestyle [5].
Conclusion
Delivering a carbon neutral Suffolk is a huge challenge and a journey that requires all residents, communities, and organisations in Suffolk to take on board without delay.
The SCCP articulates works towards carbon neutrality by 2030, which is earlier than the national Government's target and demonstrates the level of ambition Suffolk's local authorities are willing to pursue to achieve this.
The SCCP have put transparency at the heart of their plan, including estimated assessments of the carbon emissions reduction potential of their goals, where possible. The goals get them most of the way there, but not all the way. To fully transition, they will need the support and engagement from the people of Suffolk, as well as action and support from national Government. 
Transitioning to a carbon neutral Suffolk can bring with it a wide range of consequential benefits. Better air quality and more active travel can lead to physical health improvements, and an increasingly engaged and collaborative community can benefit from improvements in mental health. Putting Suffolk at the forefront of the transition to carbon neutrality prepares the country's residents, communities, and organisations to seize future opportunities [1]. 
About Pager Power
Pager Power undertakes technical assessments for developers of renewable energy projects and tall buildings worldwide. For more information about what we do, please get in touch.
References
[1] https://www.greensuffolk.org/news/suffolk-climate-emergency-plan/
[2] https://www.suffolknews.co.uk/sudbury/news/leisure-centres-begin-shift-from-fossil-fuels-to-renewable-e-9234196/
[3] https://www.westsuffolk.gov.uk/news/pr210315ws02.cfm
[4] https://www.sudbury-tc.gov.uk/eco
[5] https://www.greensuffolk.org/app/uploads/2021/05/Community-Environmental-Groups-Guide.pdf
[6] https://www.greensuffolk.org/schools/energy/
[7] https://www.solarforschools.co.uk/
Image accreditation:
Figure 1: Niklas Weiss (August 2019) from Unsplash accessed on: 30 th May 2023. Available at:
https://unsplash.com/photos/xneM68SDfok
Figure 2: Jon Butterworth (February 2022) from Unsplash accessed on 14 th June 2023. Available at:
https://unsplash.com/photos/LAm3_06_jAw