An ambitious project to supply electricity to the UK via an undersea cable connected to a solar farm in the Sahara Desert has been put forward by a company called Xlinks [1]. If successful, the project could provide 8% of the UK's electricity, running through a cable from Morocco to the southwest of England. Initially, plans were for the project to begin generating electricity in 2027 and be powering some seven million homes by 2030. Alas, the project has already been delayed [2].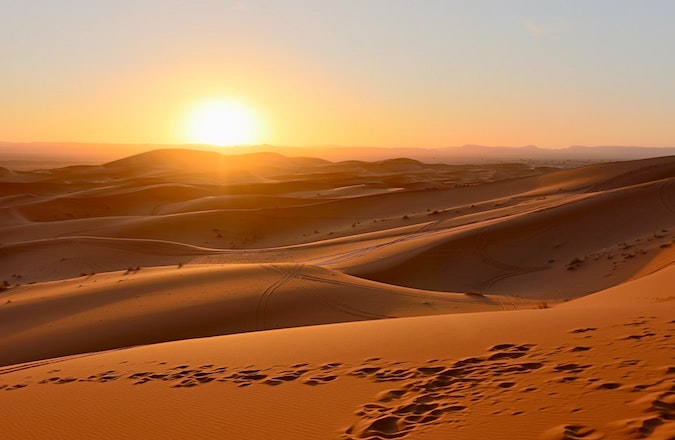 Figure 1: Sahara Desert. [6]
Challenges
The project is reportedly having trouble coming off the ground due to the volatile state of UK politics, leading to problems securing a contract for difference. For more information on what contracts for difference are, see this article.
Strategies For New Energy
The search for new sources of energy, particularly renewable sources, remains a strong part of political discourse. This doesn't always translate into significant development, but the topic isn't going away. Proposals like this one, where a massive and largely untapped source of energy is to be connected to faraway countries with high demand, do sometimes seem like the ultimate solution towards which we should strive.
Proposals are also out there for an interconnector from Egypt to Greece [3,4]. Making such projects a reality is, of course, not impossible. We have the technology, and undersea interconnectors already exist, for example BritNed which is an interconnector between Kent in England and Rotterdam in the Netherlands. However, evolving the grid to utilise interconnectors from renewable super-sources thousands of miles away is significantly more challenging both logistically and politically.
The future of renewables in the UK in particular does seem to have been on a bit of a see-saw in recent years, even more than usual. Most recently, it appears the government is looking for ways to fast-track new proposals for offshore wind and solar, as well as nuclear energy [5]. Whilst U-turns are not entirely unexpected in the current climate, this may signal good news for renewable power sources closer to home in the UK.
About Pager Power
Pager Power undertakes technical assessments for developers of renewable energy projects and tall buildings worldwide. For more information about what we do, please get in touch.
References
[1] Xlinks page for Morocco-UK Power Project (link), last accessed February 2022.
[2] Lawson, A (December 2022), £18bn project to link UK to huge wind and solar farm in Sahara delayed by a year, The Guardian (link), last accessed February 2023.
[3] The Arab Weekly, Egypt, Greece, Cyprus sign energy deal, Turkey resents being left out, The Arab Weekly (link), last accessed February 2023.
[4] Africanews (September 2022), Undersea power cable to connect Egypt to Europe via Greece, Africanews (link), last accessed February 2023.
[5] Mavrokefalidis, D (February 2023), UK looks at fast tracking of new offshore wind, solar and nuclear, Energy Live News (link), last accessed February 2023.
[6] Matt Mr (May 2021) on Unsplash.com. Last accessed on 15th February 2023. Available at: https://unsplash.com/photos/yR7dHEhi2TE