The developers of a proposed 450ft high-rise in St Petersburg, west Florida (USA), have applied for a revision of airspace and approach routes for Albert Whitted Airport [1].
The 41-storey tower, called One St. Petersburg, will be the tallest building in the region but, as it currently stands, would be considered a hazard to aviation safety by the Federal Aviation Administration (FAA).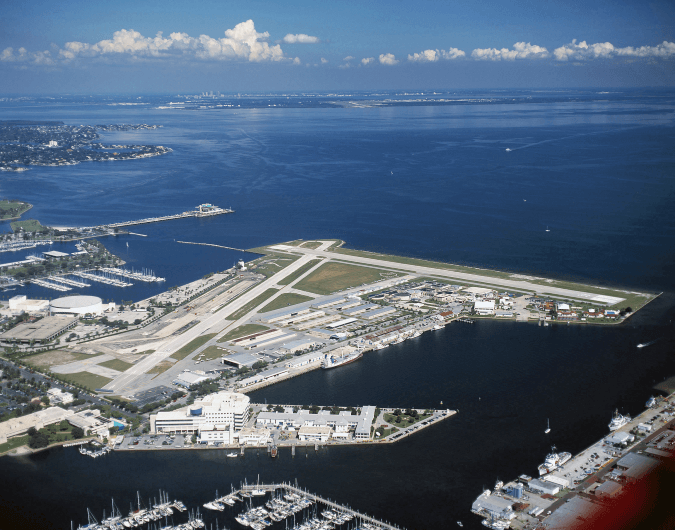 Figure 1: Albert Whitted Airport
The Problem
The maximum height of any building in the area is currently restricted to 400ft above ground level. The proposed building would stand 50ft above this height and pose as a possible physical obstruction to overflying aircraft and aircraft on approach to Albert Whitted Airport, specifically runway 07.
Currently, the crown for the tallest building in the area goes to the Progress Plaza, which stands at 386ft, just 14ft under the FAA's height limit.
The FAA uses its published guidance to determine whether an obstruction is a safety hazard. In this instance, the most applicable guidance is the Federal Aviation Regulations (FAR) Part 77- Safe, Efficient Use, And Preservation Of The Navigable Airspace [2].
The Solution
The developers have engaged with the FAA to request for the current airspace regulations and approach routes to be revised. Specifically, they have requested that the ceiling height for building development be raised to 500ft above ground level, so the proposal would be 50ft lower than the maximum regulation permits.
In addition, a modification to the approach route has also been requested. This would reduce the amount of air traffic over the built up area of St Petersburg and in turn, reduce the likelihood of air accidents over the area.
Next Steps
The process for changing airspace regulations and approach routes is a long one that will require safety cases to be completed. An update to all published procedures for the airport will also need to be undertaken. If the FAA does agree to change the regulations in the area, it is likely that it will take at least 18 months to implement.
References
[1] St. Petersburg's skyline might rise if FAA agrees to Albert Whitted change, Charlie Frago, Tampa Bay Times. (Last accessed 19/02/15).
[2] FAR Part 77, Volume 2, 01.01.2012. Federal Aviation Authority. (Last accessed 19/02/15).
Image accreditation: Albert Whitted Airport by CityofStPete via Flickr / CC BY-ND 2.0 / Image resized from original.