Background
On the 20th of  February 2019, An Bord Pleanála has upheld the decision of Galway County Council to refuse planning permission for a 10-megawatt energy plant about 4km west of Athenry, in the Republic of Ireland.
The Rejection
The reason for the rejection of the project is the potential solar panels' glint and glare hazard on drivers travelling on the nearby motorways, as specified in the planning document:
"Having regard to the location of the proposed development in proximity to the M6 Motorway, the M17/18 Motorway and the Rathmorrissy three level Motorway to Motorway Interchange, where particular driver vigilance is required, it is considered that the proposed development by reason of glint and glare, would endanger public safety by reason of traffic hazard and distraction of road user and would interfere with the safety and free flow of traffic on the road network. Furthermore, the proposed development would adversely affect the capacity, safety and operational efficiency of the national road network in the vicinity of the site, which would be contrary to national policy to protect the capacity of national routes. The proposed development would, therefore, be contrary to the proper planning and sustainable development of the area."[1]
The refusal was signed by Dolores McCague, an inspector for An Bord Pleanala, which highlighted that "the glint and glare matter is the most important issue in this case". She also added that a mitigation strategy cannot be implemented for all parts of the motorway.
The Case
The proposed development (red circle) is located near the R348, the M6 and the newly built the M17 and the M18. Building a solar farm near such major roads can cause significant problems to road drivers. The problems are intensified by two important factors:
the lack of screening between the potential reflective area and the roads

the high speed at which vehicles will be travelling on that specific road: 75mph (120km/h) [2].
These factors can pose a significant risk to road.
For this specific case, and if the orientation of solar panels is true south, the only road that will experience some reflection is the M18 which is located south east of the development. The significance of the impact in reality will depend on the location of the reflecting panels and direct sunlight relative to an observer.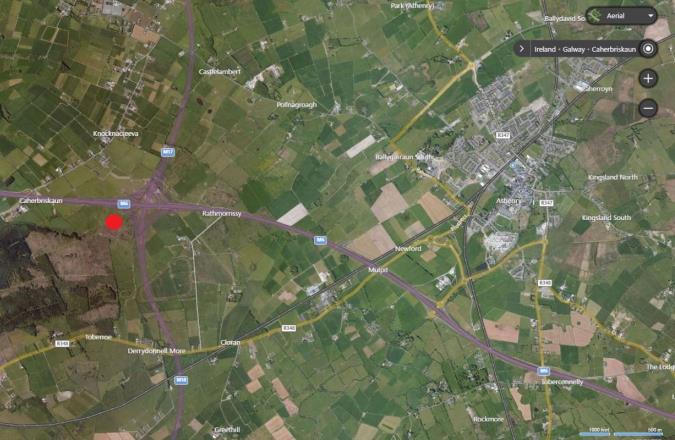 Site location[3]
Conclusion
Issues for road users related to glint and glare from solar panels are common. Pager Power has significant experience in assessing such issues. We have also worked on several projects in Ireland, and it has a good experience in glint and glare and telecommunication interference assessments. Our expertise can help developers in assessing such issues in future projects.  
References
[1] An Bord Pleanála, Ref: ABP-302034-18, available at: http://gccapps.galwaycoco.ie/viewexternaldocuments/ViewPDF?ref=2211670
[2] Citizens Information, National speed limits in Ireland, available at: https://www.citizensinformation.ie/en/travel_and_recreation/roads_and_safety/road_traffic_speed_limits_in_ireland.html
[3] Bing Maps, available at: https://www.bing.com/maps