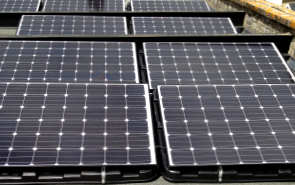 Are 500,000 solar developments on UK buildings facing the wrong way?
That is the opinion of Professor Ralph Gottshalg of Loughborough University, who has suggested that many people in the UK have misspent money installing their domestic installations by orientating their solar panels the wrong way.
What's the reason behind this?
Solar panels produce electricity which cannot be stored, with electrical output completely dependent on the sun. Most installations in the UK are orientated southward with maximum output occurring around midday when the sun is highest in the sky.
Of course, many people are at work during this time of the day, and therefore domestic energy consumption will seemingly be at its lowest at this point during daylight hours. Wouldn't it be best to orientate our solar panels so that there is a higher output in the early morning and late afternoon/early evening when the grid experience peak demand? That is the belief of Professor Ralph Gottshalg who has stated that the panels would function more efficiently if the panels were orientated east-west.
Why might is east-west facing panels be better than those facing south?
Professor Gottshalg believes that orientating your solar panels east-west will help to prevent unnecessary power spikes during the middle of the day when domestic power consumption is at its lowest. It will also maximise energy output when it is needed domestic usage is at its highest- in the morning and evening. The Professor also believes that this orientation will help to reduce stress on the electrical grid at these times.
Has this been implemented in other countries?
Yes, Germany has now adopted this approach to orientate their solar developments east-west.
Our view
Don't get your stepladder out just yet. More research will need to be undertaken to determine the effects of an east-west orientation over southerly. The orientation you choose may also be determined by your lifestyle.  It is definitely, however, something that will need to be thought about going forward.