One of the many challenges in providing a reliable power supply from renewable energy is dealing with the change in seasons and weather conditions. The solution? Sand.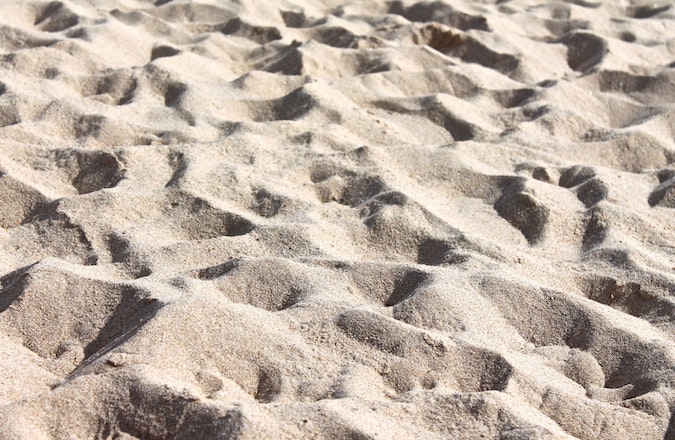 Figure 1: Sand.
Sand Batteries
Polar Night Energy's patented technology and Vatanjkoksi have built the world's first operation sand battery [2]. The battery is used to store renewable energy with many advantages, such as being simple, low-cost, and having low emissions. The battery system uses 100 tonnes of sand enclosed within 7m of steel. 
How it Works
A sand battery is a high temperature thermal energy storage [3] system, storing energy in sand as heat. As mentioned before, the sand is stored in a steel silo filled with sand and heat transfer pipes. The heat can be used to heat homes, provide hot steam, and provide a high temperature process heat as opposed to a fossil-fuel dependant method. The storage medium isn't just limited to sand, as many other solid and sand-like materials can be used. As a renewable energy solution, the current preferred choice is to use materials that are not suitable for within the construction industry.
Usage
Sand batteries are not currently being used by individual homes. However, they are currently being used across various industries such as energy utilities, metal production and pharmaceutical industries. With the extensive list including residential and commercial building usage, usage by individual homes could soon be possible. 
About Pager Power
Pager Power undertakes technical assessments for developers of renewable energy projects and tall buildings. For more information about what we do, please get in touch.
References
[1] Anthony Choren, unsplash.com, 14 March 2019
[Online] Available: https://unsplash.com/photos/dbAYmPdKI0Y (Last accessed 12 November 2022)
[2] E Benke, "How a sand battery could transform clean energy", BBC Future Planet, 4th November 2022.
[Online] Available: https://www.bbc.com/future/article/20221102-how-a-sand-battery-could-transform-clean-energy 
[3] "Sand battery", Polar Night Energy, Last Accessed 14th November.
[Online] Available at: https://polarnightenergy.fi/sand-battery