Not an ill wind
December 2016 saw Storm Urd wreak havoc in Norway, Sweden and Denmark – toppling trees, closing roads and knocking out power to tens of thousands of homes (see Reference 1).
However, despite the destruction, the storm did result in producing a wind energy record for Sweden. The country's wind farms reportedly generated almost 5.7 million kWh as a result of the high wind speeds (see Reference 2).
The accomplishment is not merely academic. The high contribution from wind farms meant that the price of electricity dropped to 24 öre per kWh – compared to 33 öre in the week before Christmas (see Reference 3).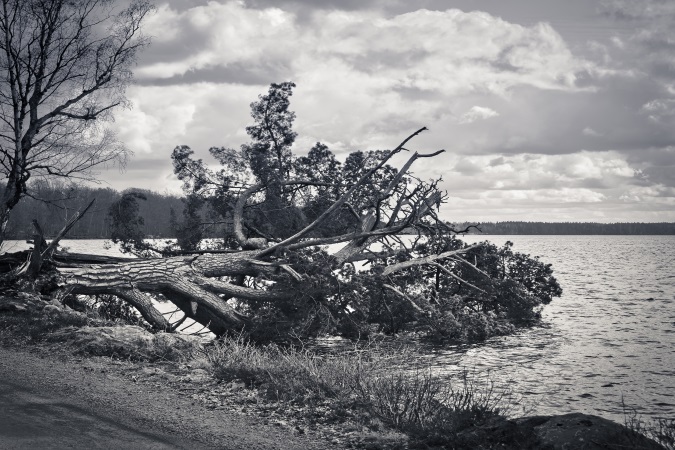 Figure 1: Fallen tree, Sweden
What is a kWh?
The power produced by wind farms – or any other energy source – is often expressed in kilo-Watt hours (kWh). In some cases, a development's potential is simply given in kilo-Watts, mega-Watts, terra-Watts etc.
A value in Watts relates to the power that an energy source can generate – in other words the amount of energy that it's producing per second. For example, a 10 kW generator will produce twice as much energy as a 5 kW generator if both are running for the same amount of time. The overall generating capacity of a development is important because it describes how much energy it can produce in a given time period under optimal conditions.
A value in kWh factors in the time that the generator is running. A 10 kW generator running for two hours produces 20 kWh. A 40 kW generator would produce the same amount if it ran for 30 minutes.
Wind Power in Sweden
Wind power in Sweden generated approximately 12% of the country's energy in 2015. Sweden also takes advantage of other renewable energy sources such as hydro power plants.
During the three days that Storm Urd hit the country wind energy produced around 26% of the country's energy.
References
The Local (no), 2016, Powerful Storm Urd leaves its mark on Norway (http://www.thelocal.no/20161227/powerful-storm-urd-leaves-its-mark-on-norway), last accessed December 2016.
The Independent, 2016, Sweden breaks wind power record by half a million kWh after intense weather and storms (http://www.independent.co.uk/news/world/europe/sweden-wind-power-record-energy-storm-urd-weather-renewable-farm-a7498511.html), last accessed December 2016.
The Local (se), 2016, Sweden just broke its wind power record by half a million kWh, (http://www.thelocal.se/20161227/sweden-just-broke-its-record-for-most-wind-power-produced-in-an-hour), last accessed December 2016.
Image accreditation: "Great fall" by Anders Printz via flickr / CC BY 2.0 / Image resized from original.