Most of us will have experienced the effects of electromagnetic interference (EMI) at some point in our day to day lives. The clicking sound heard from speakers when receiving a text message is one common example, however, there are many more. Solar farms could produce EMI and the potential effects have brought about concerns from stakeholders whose infrastructure may be affected by this type of interference e.g. transmitting stations for radio or television signals. Solar developers will be conscious of the many surprise concerns that can arise during the planning process and therefore it is important that you are aware of this potential issue so that they can be addressed accordingly.
The following article provides an overview of EMI, how solar farms can affect wireless transmissions, and the possible ways forward for your proposed solar development.

What is EMI?
EMI is the disruption to the standard operation of an electronic device created by an electromagnetic field in its vicinity. There are various types of EMI mechanisms that can occur between electronic devices. Interference occurs when an unwanted electromagnetic field interacts with an electronic component due to a coupling path. This can be a physical connection between the two pieces of equipment, or it can occur due to induction/radiation without a physical connection.
Interference can be continuous or intermittent. The mechanism by which interference occurs can vary according to the distance between the interference source and the affected system as well as the field levels that are produced by the source. EMI is something that, in small amounts, can be perfectly acceptable however there will come a point where the interference causes complete degradation of a 'wanted' signal.
How do Solar Farms produce EMI?
Electromagnetic Compatibility (EMC) is the term used which relates to the unintentional interaction of electromagnetic fields produced by a particular electrical component with one or more other electrical components. Electromagnetic fields associated with electrical devices can cause induced fields in other devices, leading to interference. In solar farms this is most likely to occur at the inverters.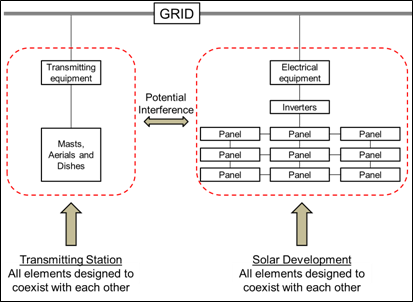 In the majority of cases, neither the transmitting station nor the solar farm has been specifically designed to coexist with one another and there is the possibility that interference may occur between the two. There are two possible concerns which may arise, these are:
1. That the proposed solar farms may cause interference to the transmissions;
2. The transmissions may cause interference to the solar farms.
EMC standards are designed to set limits on the amount of electromagnetic radiation that a piece of equipment is allowed to emit. They also define levels of external interference that a piece of equipment can tolerate while functioning correctly. There are various organisations that contribute to EMC standards. Commercial electronic devices, including solar panels, are subject to EMC testing. If however these limits were to be exceeded, interference could occur. This could cause a malfunction at the solar farm or interfere with broadcast signals nearby.
Who can object?
Objections could arise from many different stakeholders including the Local Planning Authority, Ofcom and mobile network operators.
What are the ways forward?
The EMC standards can be used to assess whether an electromagnetic impact is likely to occur. If you ever come across this type of issue please get in touch and we would be happy to help.
Image accreditation: "Light wave" BY IMAM HATOYO via Flickr /  CC BY 2.0 / Image cropped and resized from original.