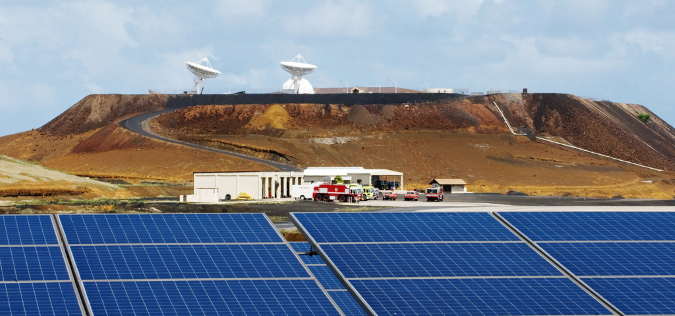 To date the biggest aviation concern for solar developers with respect to aviation activity has been the effect of glint and glare on aircraft and Air Traffic Control (ATC) personnel. However, another aviation issue can threaten developments- the possibility of solar farms affecting the performance of Primary Surveillance Radar (PSR).
As many will know, a PSR is fundamental to aircraft detection in the surrounding airspace. Many airports in the UK, and other stakeholders such as NATS and the MOD, safeguard their radar against potential interference sources.
The rise of solar photovoltaics (PV) within the UK has led to more proposed solar farms being situated close to radar sites and with this, objections have been received with regard to potential interference. However, is there any evidence to suggest that a solar farm could detrimentally affect the performance of radar? And if so, are there any real life examples? The following article presents an overview of this new potential issue for solar farm developers.
Radar Objections to Solar Farms
Radar objections to solar farms appear to be a relative recent development with initial objections being received from both civil and military stakeholders.
Reasons for objection have been stated as being due to the possibility of the solar panels reflecting a radar's beam or the potential electro-magnetic interference (EMI) created by the associated solar farm electrical equipment. The possibility of a cumulative solar farm impact has also been stated. It is believed that if these effects were to materialise, the radar's performance with respect to detecting aircraft in the airspace above could be compromised. These objections have been known to extend to as much as 18km from the radar site but there are, however, many examples of operational solar farms located on or very close to airfields and radar sites.
So, is it the case that aviation stakeholders are erring on the side of caution to ensure the integrity of their surveillance infrastructure? Or is solar farm-radar interference a real concern?
Solar Farm – Radar Interference
To date it is not believed that any solar farm-radar interference effects have materialised from operational solar farms, so what should you do if you receive a radar-based objection? We know that two solar farms in the USA (one sited at Meadows Field and the other Oakland International Airport, both in California) have implemented standoff distances of 250ft and 500ft from the radar sites respectively to overcome initial radar interference concerns. To date, it is not believed that there are any interference concerns at either of the airports.
There are also examples of solar farms located near to radar sites in the UK, for example, there are solar farms located at Gatwick Airport and Birmingham Airport. Again, it is not believed interference issues have occurred at either of these sites.
The solar farm-radar interference issue is, however, relatively new and it is technically possible that interference could materialise under specific conditions- especially with solar farms now covering tens to hundreds of hectares.
To date we do not know of any official reports of solar farm-radar interference however, we are aware of objections being received. We would welcome any further information or official reports of solar farm-radar interference. Please get in contact with us if your solar farm has received a radar-based objection or if you know of any real life examples where solar farm interference has materialised. Please leave a comment in the box below or email danny@pagerpower.co.uk.
Image accreditation: "090624-F-203" by Lance Cheung / CC BY/ Cropped and Resized from Original.