Introduction
On the 21st of August of this year, Scotland's largest proposed solar photovoltaic (PV) development received planning permission from the Moray Council[1]. The solar development, known as Speyslaw Solar Farm, will be located near Urquhart in Northern Scotland and will have an electrical generating capacity of 20MW – which is 6-7MW more than the solar development that previously held the title (Errol Estate in Perthshire)[2][3].
Details
The solar development will consist of 80,000 panels over 47 hectares of land. The solar development has received a 30 year planning permission and during this time the land will be dual-use and include sheep grazing. After the 30 years have expired, the land will be returned to its original use. The location of the solar development can be seen in Figure 1 below[4].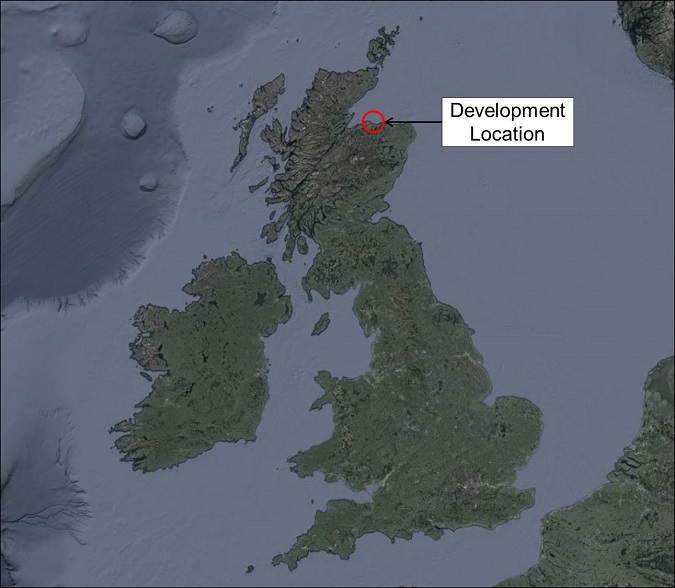 Figure 1: Speyslaw Solar Farm Location.
More to Come
The Speyslaw Solar Farm will become the largest capacity solar development in Scotland but for how long? Planning permission for a 50MW solar farm is being sought near the town of Elgin in Morayshire[5]. Speyslaw Solar Farm's crown for the largest solar farm in Scotland could therefore be short-lived.
Elsewhere in the area, work is already underway to install 84 7MW wind turbines in the Moray Firth[6]. It looks like renewable ambitions are alive and well in Scotland!
References
[1] Moray Council website, last accessed 22/08/17
[2] Go-ahead for Scotland's biggest solar farm, Gordon Davidson, The Scottish Farmer. Last accessed 22/08/17.
[3] Scotland's 'largest' solar farm approved with more to follow from Elgin, David Pratt, Solar Planning Portal. Last accessed 22/08/17
[4] ©2017 Google, Lansat, Copernicus.
[5] Scotland's Biggest Solar Farm Given Green Light by Council, Danny Lord, Simply Switch. Last accessed 22/08/17.
[6]  First Beatrice jacket installed, 4C offshore. Last accessed 22/08/17.