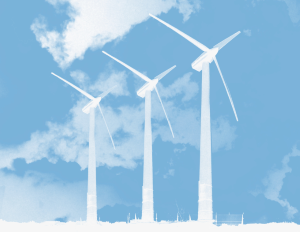 What is repowering?
Repowering is the replacement of a power generating station with one that is more efficient or higher capacity. In the case of repowered wind farm sites, this usually entails deployment of newer turbine models and/or larger turbines.
The repowering of a wind farm generally coincides with the development reaching the end of its consented operational life.
Advantages of repowering
Repowering an existing wind farm has advantages over commissioning a new site, including:
Increasing the contribution from renewable energy to the grid – because repowered sites generally have greater capacity in terms of mega-Watts.
Many logistical issues are already solved – grid connectivity is already there, access to the site for the required construction equipment has already been dealt with etc. Therefore, repowering an existing site can result in a much faster delivery of electricity and revenue when compared to construction of a new site.
The available space for renewable energy developments is finite and repowering can increase the overall contribution from renewable energy without requiring a new site.
Installing more powerful turbines can reduce the overall number of turbines required.
There is the potential for old wind turbines to be sold on.
Challenges associated with repowering
Repowering a wind farm is not an entirely streamlined process. Some of the challenges associated with this process are:
Permission – repowering a site requires a new application before it can be consented.
New issues – where larger turbines are being proposed, issues that were not relevant to the initial application can be raised. This includes objections on the grounds of aviation, radar and telecommunications.
New rules – in cases where it has been years or decades since the initial site was installed, safeguarding rules are often more stringent the second time around.
Repowering wind farms in the UK is becoming more popular as developments reach the end of their consented life, and proposals for more will continue to increase as time goes forward. It is common for these proposals to receive objections on the grounds of aviation and telecommunications, among other things.
Repowering outside the UK
Countries such as Germany and Denmark lead the way [1] with regard to repowering schemes. This is partially due to subsidies and partially due to the number of wind developments reaching the end of their operational life. California was one of the first places to repower wind farms [2].
Vattenfall's Nørrekær Enge wind farm is a repowered development and one of the largest onshore wind farms in Denmark [3]. The scheme decommissioned 77 wind turbines and replaced with just 13, which was enough to significantly increase the output of the wind farm from 17 MW to almost 30 MW. The old wind turbines were sold on with plans to install them elsewhere.
Germany's Schneebergerhof wind farm is another successful repowered scheme [4] boasting a 200 metre tall wind turbine.
Summary of benefits and challenges
Repowering developments is a very attractive option for wind farm operators. It allows developers to capitalise on the latest technology at established sites. However, the introduction of newer, often larger, turbines can lead to objections based on interference to infrastructure in the region.
Concluding remarks
Repowering developments is likely to play a significant role in the wind industry moving forward. Careful management of the likely issues in the area will be key when it comes to advancing these developments successfully.
References
[1] – Repowering Gives New Life to Old Wind Sites – James Lawson – http://www.renewableenergyworld.com/rea/news/article/2013/06/repowering-gives-new-life-to-old-wind-sites
[2] Repowering of wind turbines – Holger Peters –  http://www.wwindea.org/technology/ch02/en/2_4_3.html
[3] – Nørrekær Enge – Vattenfall – http://powerplants.vattenfall.com/node/251
[4] – Repowering Holds Enormous Potential – Schneebergerhof wind farm – Juwi – http://www.juwi.com/wind_energy/references/schneebergerhof.html