Large solar farm for County Antrim
Plans for the Dublin Road solar farm in County Antrim, Northern Ireland, received planning permission on 28 April 2016 [1]. The 46 MW solar photovoltaic (PV) development would be the largest in the country to date, producing enough electricity for nearly ten thousand homes [2].
Challenges
Unfortunately, building the solar farm is not yet a done deal. The government's renewable energy subsidies run out in March of 2017. This means the solar farm would need to be built and, importantly, connected to the grid before this date.
Grid Connection
Connecting renewable energy systems to the national electricity grid is not straightforward, and network issues can add delays to projects like these. The planning permission is a step forward, but realising the project is now a race against the clock.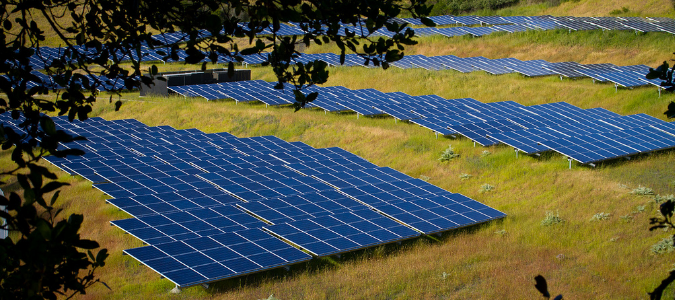 Figure 1: Solar photovoltaic array
References
[1]  Antrim and Newtownabby Borough Council website.
[2]  Plans to be approved for huge County Antrim solar farm, Conor Macauley, BBC. (Last accessed 06/05/16).
46MW County Antrim solar project gets environment minister's backing, Liam Stoker, Solar Power Portal. (Last accessed 06/05/16).
Image accreditation: "Solar Farm" by Michael Mees / CC BY 2.0 / Image cropped and resized from original.