Background
The construction industry currently accounts for 45% of carbon emissions and 50% of total landfill[1] in the UK. The use of popular building materials such as steel and concrete are the major contributor to these figures due to their high carbon footprint manufacturing process. So, let's take a look at some of the characteristics and best features of Cross Laminated Timber (CLT); a low impact construction material that is known for its strength, appearance, versatility[2].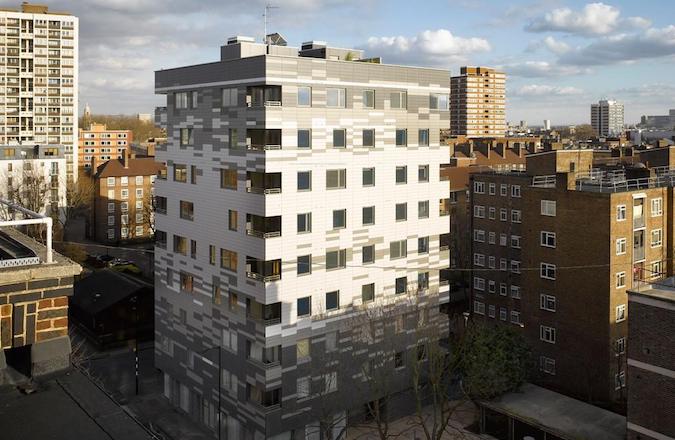 Murray Grove (created by Waugh Thistleton) was the first tall urban housing project in the UK to be constructed entirely from prefabricated solid timber.[3]
Structure
CLT is created by gluing together perpendicular wood planks (or lamellas), which are then precisely cut at the factory ready to be transported to site. Unlike conventional wood, CLT has fire proofing qualities and is unsusceptible to pest attacks and shrinking. It also weighs just 50% as much as concrete, which leads to a 35% reduction in the necessary foundations of a comparably sized concrete building[4]. 
Prefabrication
A key technique in the reduction of waste on-site is prefabrication. Planks that have been prepared at the factory are sent to the site using a Just in Time (JIT) construction method, which reduces the number of deliveries to the site and the space needed to store the materials. This cuts construction time in half when compared to a traditional build and makes CLT a great option for projects with limited storage capacity.
Sustainability
As well as causing less greenhouse gas emissions in its manufacture, leading to a low carbon footprint, CLT also reduces waste, as planks are manufactured for specific use. The timber planks also contain naturally stored carbon that have been sequestered in trees, which are then replaced with new trees that can then store more carbon. In fact, CLT can become a considerable driver of reforestation.
Conclusion
As the construction industry continues to grow, concerns of climate change will pressure companies to become more sustainable. CLT is a cost effective, practical and sustainable alternative to traditional non-renewable materials that is likely to become more widespread. After all, it's not like Cross Laminated Timber doesn't grow on trees!
References
[1] J. Ferguson, N. Kermode, C.L. Nash, W.A.J. Sketch,R.P. Huxford, Managing and Minimizing Construc-tion Waste: A Practical Guide, Institution of CivilEngineers, London, 1995.
[2] https://www.archdaily.com/893442/cross-laminated-timber-clt-what-it-is-and-how-to-use-it
[3] http://waughthistleton.com/murray-grove/
[4] https://www.bre.co.uk/filelibrary/pdf/projects/low_impact_materials/IP17_11.pdf
Image accreditation – https://en.m.wikipedia.org/wiki/File:Murray_Grove.png