For those of you that own a commercial Unmanned Aerial Vehicle (UAV), do you know the aviation rules that you need to abide by when flying it in the UK?
If the answer is no, then the UK Civil Aviation Authority's (CAA's) CAP 722 Unmanned Aircraft System Operations in UK Airspace – Guidance  should house the answer*. However with the complex document extending to 110 pages long, in addition to the subtle rule changes depending on the use and UAV specifications, it can be difficult to be certain of the rules that apply.
What can change the rules that apply to my commercial UAV?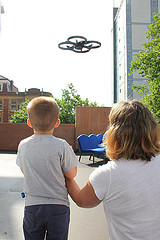 The specific rules for a planned UAV operation depend on:
Weight
Purpose of the flight
Airspace classification e.g. controlled or uncontrolled
Proximity to housing and people
Intended flight profile.
In fact, we decided to produce a table to represent all the possible rule combinations for different UAVs based on the CAP 722 Guidelines. The table showed that there are over 396 different possible scenarios that have been identified each with its own particular set of requirements. We've showed part of the table below. The crosses indicate that this combination of requirements isn't allowed.
Each segment of that grid represents a scenario governed by slightly varying sets of rules. We have chosen two segments – A & B – to represent a generalisation of the CAP 722 guidelines apply to operating a UAV fitting those specifications.

Real world example
Example
10kg UAV without Camera flying in Rural Environment
30kg UAV with Camera flying in Urban Environment
Segment (See above)
A
B
Insurance
Required
Pilot qualifications
None
Basic National UAS Certificate
Aircraft certification
Not Required
Required
Aircraft registration
Not Required
Required
Autonomous operation
Not Permitted
Standard Operating Procedures
Required
CAA clearance requirement
Required
Required
Local airport clearance requirement
Not Required
Require
Site Assessment
Required
Maximum Flying Height
400 feet
UAV maximum distance from pilot
500m
UAV minimum distance from people
50m
UAV minimum distance from buildings and structures
50m
50m and 150m from congested areas
Note the above data is very generalised. All operational situations require assessment on a case by case basis.
How We Can Help
Pager Power can advise on requirements for specific situations and undertake site assessments for specific UAVs and planned operations. Please get in touch if ou would like todiscuss a project. Call +44 (0) 1787 319001 or email info@pagerpower.com
* For model aircraft there is further procedures outlined in the CAP 658 document.
Image accreditation: "Flying drones at the Harris Flights" by John Mills via Flickr / CC BY 2.0
References
CAP 722 Unmanned Aircraft System Operations in UK Airspace – Guidance, UK Civil Aviation Authority (CAA),  published in 2012. (Last Accessed 13/01/2015)