Background
All EU countries have committed to reduce CO2 emission. The strategy requires countries to fulfil at least 20% of its total energy needs with renewables by 2020[1]. 
The latest data show that the share of renewable energy in the EU was circa 18% in 2018. However whilst some states have met their targets, a number are expected to fall short. Amongst these countries there is Netherlands[2].
Netherlands has been falling short on its target by producing only 7.04% of its energy from renewable resources[2]. However, 2018 has seen a steep increase in the amount of renewable capacity installed. Amongst all sources, solar has seen the biggest increase in capacity (+1.25GW) reaching 4.15GW in total[3].
The floating solar islands
One of the solar projects that is currently under construction is a floating solar farm. Pager Power previously discussed the topic here. 
The floating solar islands will be located on the Andijk Reservoir and will consist of 15 islands where a total of 73,500 panels will be installed. The islands will have a diameter of 140m and will be capable of rotating to follow the Sun's path during the day to maximise the power produced. In fact, tracking solar panels will generate 30% more electricity compared to the static option. The prototype has been tested under the worst-case near shore conditions. The project was launched in 2018 with a European tender[5].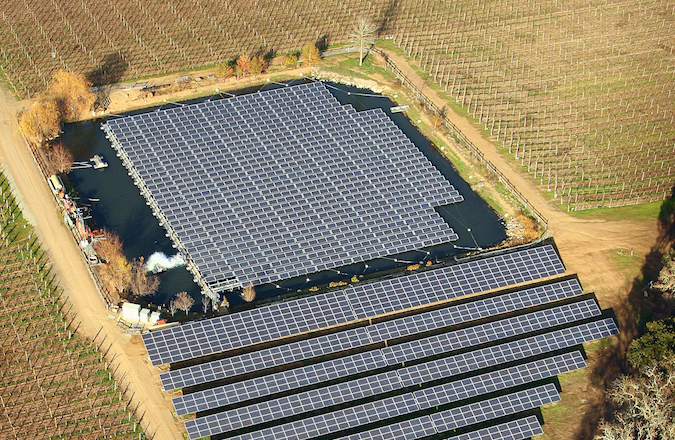 Floating solar farm[4]
Conclusion
Netherlands has enormous floating PV potential as it has approximately 520km2 of shallow inland water and companies are interested in developing floating solar farms. The Dutch Foundation for Applied Water Research (STOWA) published guidelines and tools useful for companies interested in developing floating PV projects in Netherlands. These projects also have the aim of moving the energy supply from land to water as the Netherlands experiments with moving entire housing districts to the water[6]. 
There are some critics against floating solar farms which question their impact on the landscape and point at the problem of glare generated by the panels. It is true that glare can be generated by panels and produce an annoyance to nearby communities, however, the surrounding body of water will generate similar levels of glare and therefore the effects may go unnoticed[7].  
Pager Power has significant experience in assessing glint and glare issues and can assist with any projects which require an assessment.
References
[1] Renewable energy directive, European Commission, date: 16/07/2014, accessed on: 07/01/20.
[2] Share of renewable energy in gross final energy consumption in Europe, European Environment Agency, date: 19/12/2019, accessed on 07/01/20.
[3] NETHERLANDS, IRENA, date: n.d., accessed on 07/01/20.
[4] Far Niente Winery in Napa Valley, date: 10/06/2008, accessed on 07/01/20.
[5] A floating solar island archipelago , Emiliano Bellini, date: 06/05/2019, accessed on 08/01/20.
[6] Europe's largest floating PV project under development in the Netherlands, Emiliano Bellini, date: 08/04/2019, accessed on 08/01/20.
[7] Dutch engineers build world's biggest sun-seeking solar farm, Daniel Boffey, date: 21/04/2019, accessed on 08/01/20.