Introduction
Building large wind farms in parts of America may become harder going forward. Congressman Chris Collins has introduced a proposed change to the Internal Revenue Code, ostensibly to protect the future of military installations.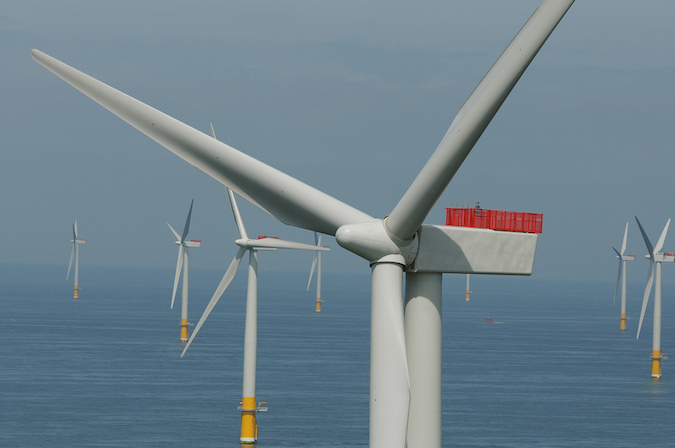 Figure 1: An offshore wind farm
Concerns
Recent proposals for a large wind developments along the shoreline of Lake Ontario, in the vicinity of the Niagara Falls Air Reserve Station seem to be the driver behind the new proposals. Concerns have been raised (See References 1 and 2) by parties including Congressman Collins, Senator John Cornyn, the Somerset town supervisor and the Yates town supervisor. It is understood that their concerns relate broadly to encroachment, radar coverage and the availability of the airspace for low-flying military aircraft and drones. Safeguarding future operations at the military base appears to be a significant concern as well.
The project developer, Apex Clean Energy, claims that they have been consulting with the Department of Defense and the Niagara Falls Air Force Reserve Station, even reportedly receiving a confirmation that the development would not significantly affect the military base.
Proposals
The proposed bill effectively seeks to make new wind facilities ineligible for tax credits if they are located within 40 miles of a military airfield or an air traffic control radar site (See Reference 3 for further details).
Is this appropriate?
Protection of military and civil aviation interests from the impact of wind farms is a worldwide issue. However, imposing a monetary penalty for developments within a given distance of an installation is a crude solution to a delicate problem. In particular:
The technical and operational significance of wind farm related impacts are often sensitive to factors other than distance.
Denying tax credits is likely to make a project less economically attractive – but it's an indirect way of ensuring aviation impacts are suitably mitigated.
The effects of the proposals on the renewable energy landscape in the USA remain to be seen.
References
WNY Papers, 2016, UPDATE: Collins introduces legislation to blow back wind turbines, Niagara Frontier Publications (http://www.wnypapers.com/news/article/current/2016/11/30/126815/collins-introduces-legislation-to-blow-back-wind-turbines). Last accessed December 2016.

Letter from Chris Collins to Department of Defense and Federal Aviation Administration (https://chriscollins.house.gov/sites/chriscollins.house.gov/files/APEX%20Energy.pdf). Last accessed December 2016.

H.R. 6397 Summary (https://www.govtrack.us/congress/bills/114/hr6397). Last accessed December 2016.
Image Accreditation "Greater Gabbard Wind Farm" by Department of Energy and Climate Change via flickr / CC BY-ND 2.0 / Image cropped and resized from original.