Solar Panel Sound Barrier on the A419/M4
The plan to develop solar panels next to the A419 and M4 near Swindon has taken a step closer after an initial agreement was made by Swindon Council. Now only approval from the cross-political party planning committee is required for the project to be given the go ahead. [1]
The plan is to develop solar panels along the roadside to generate green energy as well as providing additional sound proofing between the roads and surrounding properties. The figure below shows the solar development near Munich Airport in Germany which acts as a sound barrier.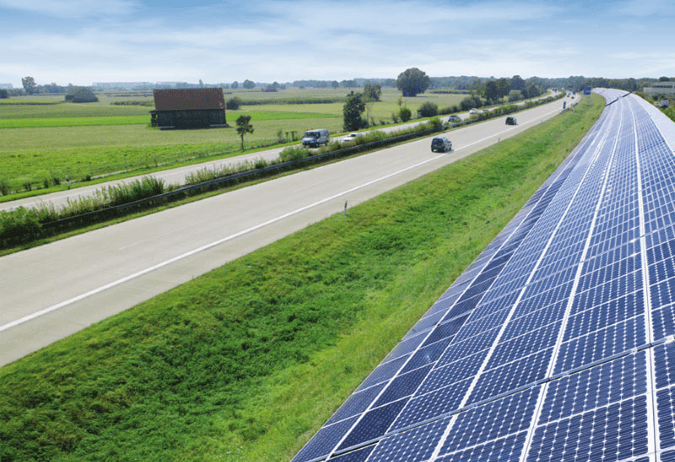 The scheme is part of a larger council wide program to take advantage of legislation change and develop more solar farms within the area.
The 'call for sites' is a scheme for people to submit a site for a potential solar farm. The site is then screened against certain criteria and a public consultation. If the site is deemed acceptable, then planning permission is granted under what is called a Local Development Order (LDO).
Locating a solar farm next to a busy road can sometimes prove controversial due to issues such as glint and glare and the consideration of solar farms as a distraction to road users. It is likely that these issues will need to be considered before any construction can begin.
RAF Lyneham Solar Farm
Another solar development has been consented down the road from Swindon, in Lyneham. The 83-hectare solar farm (equivalent of 100 football pitches) will be developed to provide up to 40MW of power for the new technical college at RAF Lyneham and up to 10,000 additional homes. The solar farm will consist of 160,000 solar panels. [2]
RAF Lyneham was the home of the Hercules until the fleet was transported to RAF Brize Norton in 2011. There are currently no RAF flying squadrons at the airbase however it remains a primary alternative airfield if emergency or adverse weather conditions mean an aircraft's initial destination is not appropriate.
RAF Lyneham therefore does not house operational aircraft on a day-today basis and is no longer safeguarded by the MOD. Therefore, any glint and glare issue associated with solar panels is not relevant in this instance.
The £230m technical college is currently under construction and is due for completion by autumn 2015. [3]
References
[1] Easier path towards solar farm delivery, Swindon Advertiser, published 27/11/2014. (Last Accessed 09/01/2015).
[2] Solar power for new college at MoD Lyneham, Swindon Advertiser, published 02/12/2014. (Last accessed 09/01/2015).
[3] MoD Lyneham training college work starts, BBC News Wiltchire, published 13/01/2014. (Last accessed 08/01/2015).
Image accreditation:"PV Soundless Freising" by Isofoton.es – Own work/ CC BY 3.0 via Wikimedia Commons / Cropped and resized from original.