Overview
A newly developed office development in Edmunton, Alberta, Canada, has its entire southern façade covered with solar photovoltaic (PV) panels. However, three proposed buildings in the vicinity stand to shadow over the solar wall, decreasing their efficiency. The following article describes the proposed development and shares a link to a local news video showing an interview with the developer discussing the development and the effects of shadowing.
Building
Development Details
The office development, known as The Edge, is a 10 storey officer tower located near 106 Street and 104 Avenue. The Edge is built up with an entire north wall of windows but its southern side is covered entirely with approximately 500 solar PV panels. The estimated cost of the solar panels was $400,000 (or approximately £308,000) and it is believed to be the largest vertical solar PV wall in Canada. The electrical energy produced is expected to supply 80% of the building's electrical needs[1]. Figure 1[2] below shows a photograph of The Edge before the solar panels were installed.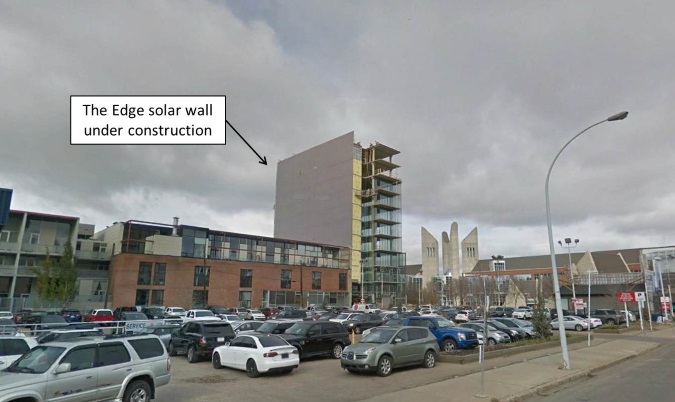 Figure 1: The Edge under construction.
Shadowing concerns
The link below shows a video of an interview with the building's developer describing The Edge and how shadowing from the proposed 40+ storey developments will affect the efficiency of the solar panels.
If the three adjacent proposed building developments are constructed it is believed that shadowing will reduce the efficiency of the solar wall by 20%. The developer believes that the effect of shadowing would not be 'tragic' with the solar panels having paid themselves within 5 years. At the time of writing work on the three developments is yet to begin however planning permission runs until 2024.
Conclusions
Incorporating renewable energy systems into building design is a responsible and sustainable approach to property development. The Edge shows that solar PV walls are viable however incorporating solar panels in areas where high rise developments exist, or may exist, may lead to shadowing and reduce their efficiency.
References
[1] © 2017 Global News, a division of Corus Entertainment Inc. 500 solar panels cover south side of downtown Edmonton office tower, Kendra Slugoski, 30 March 2017. Last accessed 08/08/2017.
[2] © 2017 Google.
[3] As per reference 1.