Background
Newquay airport is becoming one of the few locations in United Kingdom to enable sub-orbital flights, spaceplanes and satellites launches[1]. The Newquay spaceport plan has won £20million funding from the government and received a confirmation for sub-orbital flights from the European Space Agency[2].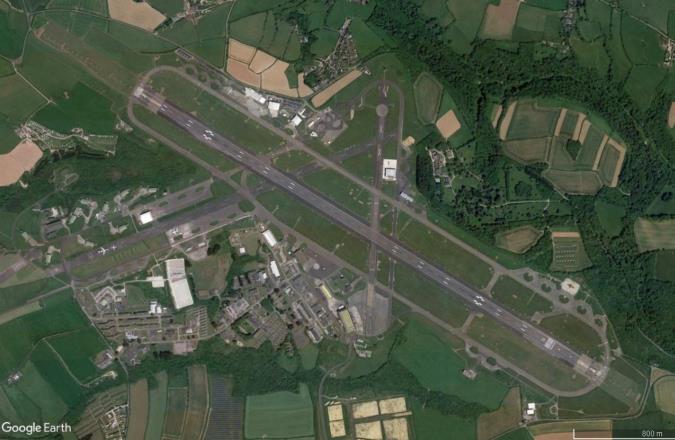 Newquay Airport[3]
Why Newquay
Newquay airport has several characteristics that make it the perfect place for horizontal launches:
One of the longest runways in the UK (2744m);

Access to uncongested and clear segregated airspace;

Direct access to sea and low population density;

The right infrastructure for:

Rocket and propulsion tests;
Fuel handling;
Mission control;
Innovation.

Connectivity with London and other major UK cities;
Enterprise benefits and tax breaks[4].
The project
Newquay airport has agreed to start horizontal launching satellites in 2021. The launch will involve an aeroplane (mobile launch pad) flying a satellite to sub-orbit where it will be released and intercept the orbit. Such a strategy will achieve precise placement for orbital intercept rendezvous, or reconnaissance[5]. 
Virgin Orbit is interested in the project and it is planning to use a Boeing 747 to carry the LauncherOne to more than 30,000 feet before the rocket engages its thrusters and flies into orbit to drop off satellites. The LauncherOne offers satellite customers an unparalleled level of control over when and where their spacecraft are deployed.
This project can be extremely beneficial and profitable since the space sector is growing and it will also strengthen the US-UK partnership[6]. 
The future
There are several speculations on the future of Newquay Spaceport. Some claim that Newquay Spaceport will be space tourism hub, other that there will be 90 minutes flights to Sydney. However, for managing director Miles Carden, these claims are still premature [7]. 
Currently, the plan is to develop the infrastructure and have the legislation in place to make horizontal launches possible. Mr Carden believes the first horizontal launch could be carried out from Newquay Airport by the end of 2021. This program will enable Newquay to be one of the European hubs for the space industry, favour the growth of existing business and the addition of new businesses in Cornwall and concurrently increase the number of well-paid jobs in the area[7].
References
[1] Horizontal launch spaceports target UK space tourism and satellite launches with £2m fund, Institution of Mechanical Engineers, date: 21/05/2019, accessed: 17/07/2019
[2] New plan could see flights from Cornwall to Australia taking 90 minutes, Neil Shaw, date: 01/07/2019, accessed: 17/07/2019
[3] Source: Copyright © 2019 Google.
[4] The home to UK launch, Spaceport Cornwall, date: n.d., accessed: 17/07/2019
[5] Horizontal Launch: A Versatile Concept For Assured Space Access, NASA, date: 12/2011, accessed: 17/07/2019.
[6] Virgin Orbit and Spaceport Cornwall, Richard Branson, date: 06/06/2019, accessed: 17/07/2019.
[7] Spaceport Cornwall boss says forget about 90 minute flights to Australia, Olivier Vergnault, date: 05/07/2019, accessed: 17/07/2019.