The Nestlé factory in Newcastle is now believed to have a claim to the largest solar installation in the North East, thanks to 1970 solar panels, generating half a megaWatt of power. The installation was officially opened by 20 students from Malvin's Close Primary Academy in Northumberland. During the visit the pupils learnt about the importance of renewable energy and how the solar panels work.
Solar panels at the Nestlé factory in Fawdon.
The Nestlé Solar Panel Installation
The Fawdon solar installation, which has both roof and ground mounted solar panels, is an addition to an anaerobic digestion unit [1] opened earlier this year. This comes as part of a global campaign from the company to power all of their factories using only renewable energy [2].
Andrew Griffiths, Head of Environmental Sustainability at Nestlé UK & Ireland, said:
"As part of our global commitment to procure 100 per cent of electrical energy from renewable sources we are looking at potential solar-powered sources on a site-by-site basis."
The installation utilises 1970 solar panels to generate 425,000 kWh per annum. This installation will provide roughly 1.5% of the sites annual energy usage [3]. The introduction of the solar panels will cut the factories carbon dioxide emissions by 225,000 Kg a year, which is roughly the same amount produced by 450 cars, over the same time period.
Visual Impact of Solar Panel Installations
One of the reasons the Fawdon site was granted planning permission was due to the minimal visual impact the solar panels were expected to have on the buildings themselves, or the surrounding areas. (Here at Pager Power we have previously written an article outlining the visual impact that solar panels may have on the surrounding areas.) Consultation was carried out with Nexus (owners of the nearby Metro line), however Nexus felt the site would be a "sufficient distance from Metro infrastructure" [4].  Due to this no further consultation needed to take place, however, this is not always the case.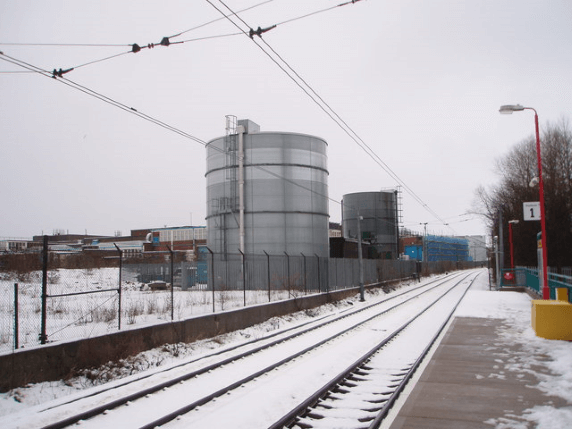 The view south west from Platform 1 of the Fawdon Metro Station across the tracks to storage tanks at the north east corner of the Fawdon Nestlé factory
A visual impact of solar panels that has become more common in the UK is glint and glare. We have carried out over 150 glint and glare assessments where we use our custom-built analysis tool to assess the possible effects of the glint and glare from solar panels on aviation, surrounding buildings and nearby roads. If you require a glint and glare assessment for your solar development, the best way to get in touch is to call us on +44 (0) 1787 319001 and see what we can do to help.
Conclusions
This Fawdon solar installation shows the commitment from Nestlé and fellow RE100 members to increase the use of renewable energy sources. If this solar panel installation is a success, then solar panels on factory sites may soon be a common sight. With announcements from IKEA earlier this year stating that they plan on investing €100 million on solar power in the next five years [5], it will be interesting to see which other multi-national companies will also increase funding for solar panel installations.
If you know of any other solar projects from large companies please let us know by leaving a comment below.
Image accreditations: "panel fawdon feed" by Nestlé / press release image.
"Fawdon_Metro_station,_2_January_2010" by Philip Barker via WikiMedia Commons / CC BY-SA 2.0 UK
References
[1] Sweet success for Nestlé's on-site anaerobic digestion plant, Clearfleau. (Last accessed 10/12/2015)
[2] Switching to renewables is a smart business decision, IKEA Group and Nestlé say at World Future Energy Summit in Abu Dhabi, RE100. (Last accessed 10/12/15)
[3] Nestlé Fawdon completes the biggest solar panel installation in the north East of England, Nestlé (Last accessed 10/12/2015)
[4] Nexus Consultation, Andrew Walker, Planning Application Documents 2015/0453/01/DET, Newcastle City Council. (Last accessed 10/12/2015)
[5] IKEA To Invest €600 Million In Wind & Solar Power, Clean Technica. (Last accessed 10/12/2015)