The National Air Traffic Service (NATS) and the Association of Remotely Piloted Aircraft Systems (ARPAS) have signed a 'safety partnership agreement' to promote the safe use of remote controlled aerial drones in the UK [1].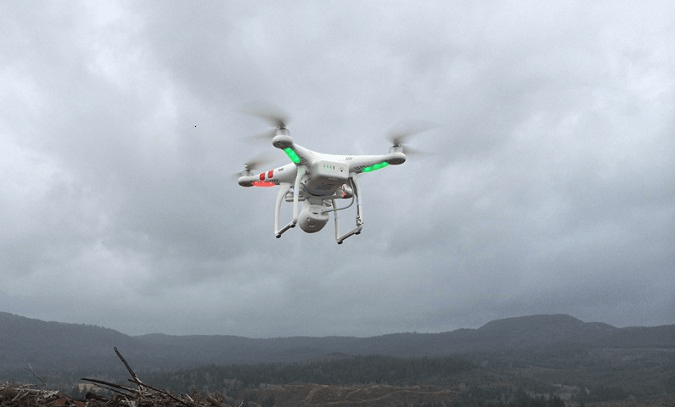 Figure 1 Example of a Drone
Drones usage in the UK
Commercial and domestic drone usage has risen dramatically over the last few years as the cost of their remote control (RC) and GPS components has come down.
Drones have many potential applications including terrain surveying, aerial recording equipment and toys/gadgets for the RC enthusiast to name just a few. This increase has led to the need for greater regulation of airspace to avoid potential air safety incidences with other aviation activity.
Drones and UK aviation activity
There are over 120 civil licensed aerodromes [2]  and over 50 military airfields [3] in the UK. These figures do not include the vast number of unlicensed airfields throughout the UK that cater for aviation activity such as paragliding and gliding. It is therefore evident that UK aviators, including drone pilots, must safely cohabitate a busy air traffic environment. Increased numbers of drones without safe regulation could lead to potentially hazardous aviation incidents.
Drone Regulation
The commercial use of drones is regulated in the UK by the Civil Aviation Authority (CAA) however it is becoming easier and easier to obtain and pilot a drone without any training or knowledge of airspace rules. Therefore, it is essential to educate non-commercial users to ensure safe practice.
The agreement between NATS and ARPAS UK will see the two bodies working together to promote the safe use of drones. This will be done in a way that 'maximises their potential applications, while at the same time protecting other airspace users [5].
Conclusions
Reported incidents involving drones and other aviation activity remain rare, however, the growing number of drone operators in the UK means the collaboration of NATS and ARPAS UK is important.
Increasing the awareness and regulating drone usage for non-commercial users is a welcome one that can only help operators to understand their responsibilities as pilots. The difficulty may come in policing and enforcing these regulations.
References
[1], [4] New partnership to promote safe use of drones, NATS. (Last accessed 02/03/15).
[2] NATS Aeronautical Information Publication. (Last accessed 02/03/15).
[3] Military Aeronautical Information Publication. (Last accessed 02/03/15).
Image accreditation: "Drones forestry" by Sam Beebe via Flickr / CC-BY 2.0 / image cropped and resized from original.