A proposed 1.5MW wind turbine at Middlesbrough Riverside Football Stadium (pictured below) has hit a stumbling block after previously receiving planning permission from Middlesbrough County Council in 2008.
Concerns were previously raised by Durham Tees Valley Airport (DTVA) over the possible impact upon the primary surveillance radar (PSR) and its operations, hence a planning condition was imposed. The condition stated that mitigation must be agreed and installed before the wind turbine is built. In most circumstances, the reason for this is to ensure no technical and/or operational impact occurs due to the presence of the wind turbine. Since then the developer has tried to discharge the condition on the grounds that there will be no impact upon the airport's operations.
The Middlesbrough Turbine
The proposed wind turbine will measure 136m to tip and is to be located in a carpark near to the Riverside Football Stadium. The turbine will produce electricity for Middlesbrough Football Club over the next 20 years, replacing electricity that would otherwise be drawn from the electrical grid. Middlesbrough Football Club would be the first football club in Europe to install a wind turbine next to its football ground.
Reason for the concern
DTVA have stated that the wind turbine, located approximately 2 nautical miles (nm) from the extended runway centre line for Runway 23, would be in an operationally sensitive location with respect to the airport approach routes. This could mean that any resultant 'clutter' produced by the wind turbine (discussed further in this article) is misidentified as an unknown aircraft in the airspace. However, a former National Air Traffic Service expert stated that the wind turbine would have no safety implications upon DTVA operations. It is clear that both sides have a difference of opinion with regard to the possible impact of the consented wind turbine.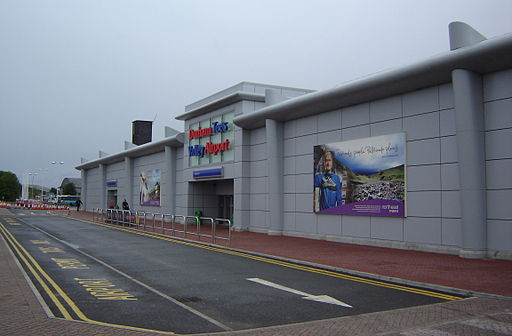 Next Steps
The Middlesbrough Council Planning Committee is due to meet today (19th December 2014) to discuss the consented wind turbine and determine whether the condition will be discharged without mitigation. We will keep you updated as the story progresses.
image accreditations: "MFC Riverside Exterior" by Chemical Engineer via WikiMedia.
"Durham Tees Valley Airport terminal building – geograph.org.uk – 384121" by Adam Brookes via WikiMedia / CC BY-SA 3.0 / Cropped and resized from original.