Background
For the first time ever, two astronauts onboard a spacecraft developed and built by a privately owned company has launched into space. The Crew Dragon capsule, shown below, docked to the International Space Station (ISS) approximately 19 hours after lifting off from Kennedy Space Center in Florida, USA. The historic launch could pave the way for the commercial spaceflight industry.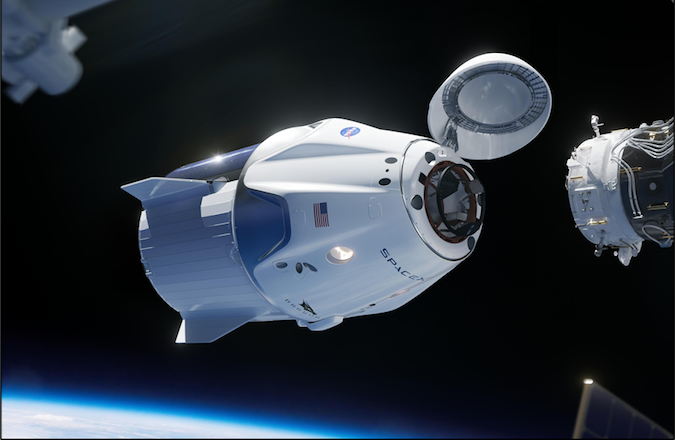 Figure 1 Crew Dragon capsule[1]
Commercial Space Travel
The company responsible for providing NASA with perhaps the world's most expensive taxi service (costing approximately $55 million per seat[2]) is SpaceX. As well as Boeing, SpaceX has received huge funding as part of NASA's Commercial Crew Program – a partnership with the aim of supporting the development of cost-effective and reliable access to the ISS and low-Earth Orbit[3]. 
Commercial spaceflight has also reignited the prospect of space tourism. Both the Crew Dragon capsule (SpaceX) and Starliner capsule (Boeing) have been developed to take paying tourists on low-orbit flights around Earth in the future[4]. There are even plans to send paying tourists up as soon as next year! Spaceflight will also allow faster Earth to Earth transportation by travelling without turbulence and friction outside the Earth's atmosphere and could mean access to anywhere in the world in under an hour[5].
Conclusions
Whilst the commercial aviation industry here on Earth is going through a sustained decline, commercial spaceflight is only just beginning. Though it might be a while before spaceflights become as normal as a flight to our favourite holiday destination, the possibility of buying a ticket onto a spacecraft and going into space is now certainly a reality.
About Pager Power
Pager Power helps developers resolve technical issues that may block their development during the planning process. For more information please call us on 01787 319001.
References
[1]Commons.wikimedia.org. 2020. File:Spacex Crew Dragon (More Cropped).Jpg – Wikimedia Commons. [online] Available at: https://commons.wikimedia.org/wiki/File:SpaceX_Crew_Dragon_(More_cropped).jpg [Accessed 10 June 2020].
[2]Wall, M., 2019. Here's How Much NASA Is Paying Per Seat On Spacex's Crew Dragon & Boeing's Starliner. [online] Space.com. Available at: https://www.space.com/spacex-boeing-commercial-crew-seat-prices.html [Accessed 10 June 2020].
[3]Heiney, A., 2019. Commercial Crew Program – Essentials. [online] NASA. Available at: https://www.nasa.gov/content/commercial-crew-program-the-essentials [Accessed 10 June 2020].
[4]Howell, E., 2018. Could Spacex And Boeing Spaceships Open A New Era For Space Tourism?. [online] Space.com. Available at: https://www.space.com/41496-spacex-boeing-space-tourism-commercial-spaceships.html [Accessed 10 June 2020].
[5]SpaceX. 2020. Spacex. [online] Available at: https://www.spacex.com/human-spaceflight/earth/index.html [Accessed 10 June 2020].