A desert, jungle, glaciers and 8 more overlapping natural landscapes all held under one high-rise roof. This is the concept of Essence, the eVolo Skyscraper Competition winner 2015.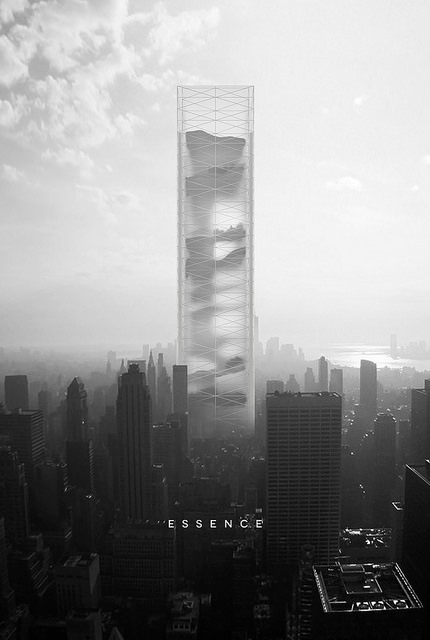 Designed by Ewa Odyjas, Agnieszka Morga, Konrad Basan, and Jakub Pudo from Poland, the skyscraper would bring "non-architectural phenomena in a dense, urban fabric. [1]" This would be completed through an open floor plan housing a stack of 11 landscapes with variable exploration routes dedicated to different shades of adventure.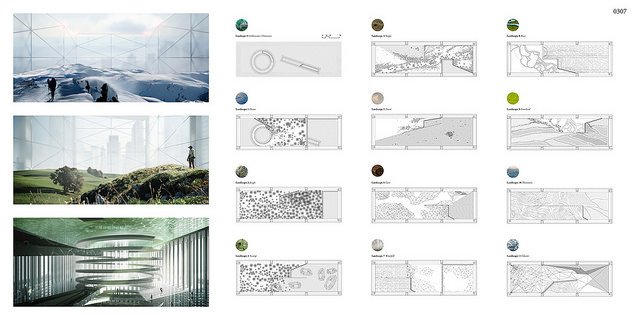 The eVolo Competition
The architecture and design journal eVolo, based in New York, first ran the competition in 2006 in order "to recognise outstanding ideas for vertical living. [2] "  It encourages worldwide participants such as architects, artists and engineers to freely share their designs whilst considering elements such as technological advancements, socioeconomic problems and unplanned urban sprawl. [3]
The awards this year were as listed [4] as below:
2nd place – US $2000
3rd place – US $1000
The winners were chosen by a jury of 9 made up of leaders of the architecture and design fields from all over the globe.
Other 2015 Competition Entries
Inundated with 480 entries to the competition it was not only the Essence Skyscraper that received praise, with 3 places announced and 15 honourable mentions.
2nd Place: Invisible Perception: Shanty-Scraper by Suraksha Bhatla and Sharan Sundar from India
3rd Place: Cybertopia: Future of an Architecture Space, Death of Analogous Cities by Egor Orlov of Russia
The honourable mentions include the Times Squared 3015 mile high-rise meant for New York City by Blake Freitas, Grace Chen, Alexi Kararavokiris. The project redesigns the popular Times Square area of the city and would contain shops, beaches and even a miniature mountain range.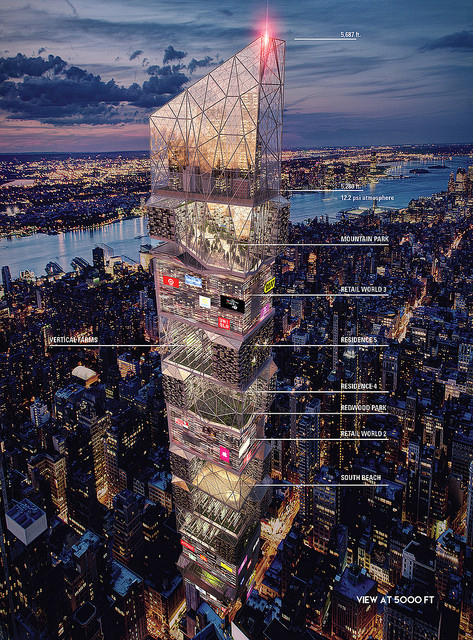 You can read and see more about the entries on the dedicated area of the eVolo website.
References
[1] Essence, eVolo (Last accessed 07/04/2015)
[2] Winners 2015 eVolo Skyscraper Competition, eVolo (Last accessed 07/04/2015)
[3] eVolo 2015 Skyscraper Competition, ArchDaily (Last accessed 07/04/2015)
[4] Registration – eVolo 2015 Skyscraper Competition, eVolo (Last accessed 07/04/2015)
Image accreditations: "Essence Skyscraper – Page 01" by 準建築人手札網站 Forgemind ArchiMedia / CC BY 2.0
"Essence Skyscraper – Page 03" by 準建築人手札網站 Forgemind ArchiMedia / CC BY 2.0
"Times Squared 3015 – Page 01" by 準建築人手札網站 Forgemind ArchiMedia / CC BY 2.0