Concentrated Solar Plants: South Africa Update
The solar energy industry in South Africa is predicted to grow over the next 10 years due, in part, to the continued investment in Solar Thermal Parks or Concentrated Solar Plants (CSP) from local and foreign investors.

Back in July 2014, it was announced that the European Investment Bank (EIB) and South African electricity utility Eskom had agreed a €75 million loan package for the development of the Ka Xu CSP project in Upington in the country's Northern Cape Province. The development will have a capacity of approximately 100MW. [1]
In early January 2015, it was announced that another CSP project within the Northern Cape, known as the Redstone Project, had also received financial backing. In this instance, the reported investment sum was in the region of €1.2 billion from investors in the USA and Saudi Arabia. The power plant will produce enough energy for approximately 210,000 homes. [2]
What is CSP?
Put simply, CSP is the use of curved mirrors to reflect and concentrate sunlight towards a central tower containing water. This water is then converted into steam and used to drive a conventional turbine that produces electricity.
In sunny locations with a vast expanse of flat open land, this is an ideal renewable energy technology to exploit. The image below shows an operational CSP plant in the Mojave Desert in Las Vegas, USA.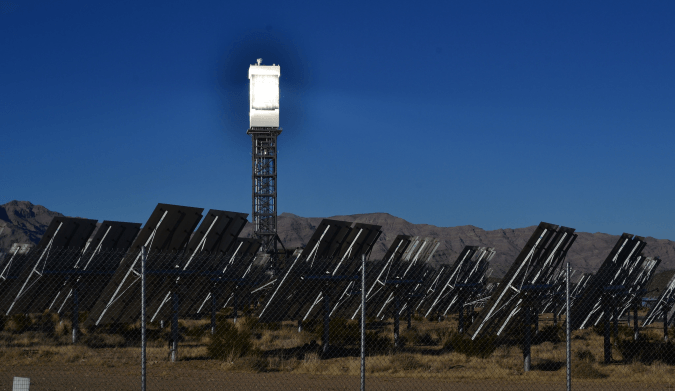 Some CSP developments have the capability to 'store energy' so that it can be released when the sun isn't shining. This is possible by storing heat in molten salts that can be called upon to turn water into steam when necessary, again providing energy by converting water to steam and powering a turbine.
The Expected Growth of CSP in South Africa
According to the CSP Today Markets Report Series 2015 [3], South Africa is currently the second strongest CSP market in the world, behind the USA. Continued government backing and investment from local institutions coupled with targets setting out a vast increase in capacity means that significant development is expected. Currently, the South Africa CSP market has 2.33MW of capacity (operational and under construction). The national target for 2020 is a capacity of 1,200MW with the upper forecast estimate by 2025 being 2,132MW of installed CSP.
References
[1] European Investment Bank in solar plant loan deal for South Africa, Out-Law.com (Last Accessed 14/01/15)
[2] Saudi-US consortium to build $1.2bn CSP solar plant in South Africa, Global Construction Review (Last Accessed 14/01/15)
[3] CSP Today Research & Reports, CSP Today and Analysts See Shifting Sands in the Global CSP Market , Renewableenergyworld.com (Last Accessed 14/01/15)
Image accreditation: "Ivanpah Solar Power Facility" by "ATOMIC Hot Links" via Flickr / CC BY-NC-ND 2.0 / image cropped and resized from original.