Whilst the new US President doubts climate change science, Chinese President Xi Jinping is delivering huge Chinese investment in wind energy and solar PV generation. Four of the five biggest renewable energy deals in 2016 were made by Chinese companies demonstrating China's commitment to renewable energy and strengthening its global dominance of the industry.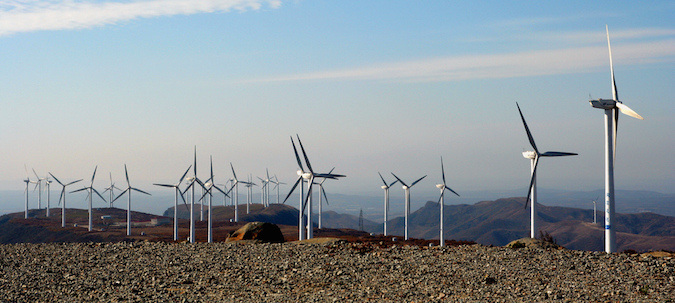 Figure 1: Mulan Wind Farm, Heilongiang Province. One of the first wind farms in China, raising the profile of renewable power and acting as a flagship for replication of the technology across China.
This massive ongoing Chinese investment in renewable electricity is considered more important for reducing worldwide carbon emissions than the stance of the United States government. Nevertheless China and the last US government reaffirmed their joint commitment to combating climate change in September 2016.
Trump, a long-time climate change sceptic, has vowed to increase America's production of fossil fuels and do away with emission cutting administration regulations. The Chinese government is now urging the new US administration to maintain the commitments made to the United Nations in Paris 2015.
It is not commonly known that whilst China uses more energy than any other country, it generates more renewable electricity than any other country and invests more in renewable projects outside its own borders than any other country. In terms of policy, action and investment the country is very clearly committed to economic growth fuelled to an increasing extent by renewable energy. Key statistics (from a variety of sources) are shown in the table below:
| | | |
| --- | --- | --- |
| | United States | China |
| GDP 2015 | 17.9 $tn | 10.8 $tn |
| GDP 2020 | 21.9 $tn | 16.1 $tn |
| Electricity Consumption 2020 | 3,900 TWh | 7,300 TWh |
| Renewable Electricity Production 2020 | 750 TWh | 1,790 TWh |
| Renewable Energy Investment 2015 | 44 $bn |   103 $bn |
China is therefore facing significant challenges as it strives to deliver economic growth, significant increases in conventional electricity production and massive increases in renewable electricity production. China's electricity consumption is forecast to grow 250% by 2030 while the rest of the world's consumption remains relatively flat.[1] It is therefore not surprising that China is taking an assertive stance on matters of global trade and climate change.
The Chinese electricity market is changing to help deliver this renewable energy growth, the main changes being pricing support mechanisms for the generated electricity and an obligation on electricity grid operators to take all generated renewable electricity – rather than rejecting it at times of low demand.
So the pertinent questions to be asking are:
Will the new US president halt American investment in renewable electricity or will he demonstrate an "open mind"?
Will president Xi Jinping tolerate the US "pursuing their own interests at the expense of others" if America does pull out of the climate pact?
What would be the impact of a breakdown of these agreements for global trade and climate change?
The US president has been unpredictable in so many ways. Early indications are that Trump aims to deliver his promised support of the growth of the US coal industry. (He has just changed a law which now allows coal companies to dump waste in streams.) While the future cannot be predicted, it feels like a potentially rocky road ahead.
RE100 China Analysis 2015: China's Fast Track to a Renewable Future.
Image accreditation: "Mulan Wind Farm" by Land Rover Our Planet via flickr / CC BY-ND 2.0. Image resized from original.