Recently approved legislation in Austin, Texas (United States (US)) is set to significantly increase the city's energy producing capacity from solar photovoltaics (PV).
The target is to produce an additional 800 Megawatts (MW) from both domestic and large-scale solar PV developments, with a proposed 200 MW from domestic solar by 2020 and 600MW from large-scale solar by 2017. An additional 200MW of fast response storage [1] is also proposed.
The energy bill represents a big commitment to renewable technology that could propel the state of Texas into the top 10 solar markets in the US. California is currently well ahead of all other states in terms of capacity from solar PV.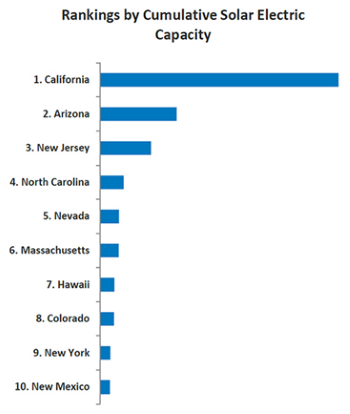 Figure showing top 10 US states in 2013 by cumulative solar electric capacity [2].
The dramatic backing of solar PV technology has occurred primarily on economic grounds however, the main aim of the energy bill is to protect against unknown long-term energy costs associated with fossil fuels [3].
There will also be significant environmental benefits due to the focus on renewable technology.
However, the energy bill was not passed without some people questioning the decision. Establishing a secure and stable connection to the electrical grid is one of the first and most important steps when designing a renewable technology scheme and this has led to some executives questioning its current capability. The proposed fast response storage however was included to help ease this concern.
So is solar technology now becoming the go to renewable energy technology for authorities looking to shift from fossil fuels?
Well it is believed that the cost of implementation over the lifecycle of the energy technology is still the major factor, and in the case of Austin Texas, solar PV looks to be the most economical going forward.
What do you think?
Footnotes and References
[1] Fast response storage facilities are designed to store energy and discharge quickly when called upon i.e. when an energy shortage occurs.
[2] Graph created using date sourced from http://www.seia.org/research-resources/solar-industry-data (Last accessed 19th September 2014)
[3] A consideration was to build a new natural gas plant.