Background 
On the 18th of December Airbus successfully completed the first automatic take-off using a vision-based technology instead of the most common instrument landing system[1]. The A350 took off eight times from Toulouse-Blagnac airport without the need of a pilot for the manoeuvre[2].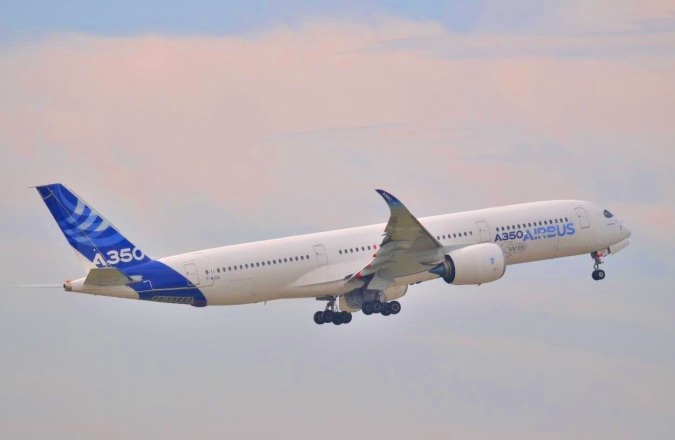 Figure 1 – Airbus A350 taking off[3]
The technology 
Airbus has developed a vision-based technology under the project Autonomous Taxi, Take-Off & Landing started in June 2018. The cameras, located on the tail, belly, and near the forward landing gear of the aircraft, have helped the aircraft to maintain the bearing of the runway. The computer also considered other factors which can potentially knock the aircraft off of the runway's centreline and require correction such as wind and other runway hazards such as foreign object debris, or FOD[4].
However, the on-board crew, two pilots, two flight test engineers and a test flight engineer, had to pilot the Airbus A350 to its position on the runway for the automatic departure[1]. 
Conclusions 
Airbus is not trying to create a self-flying system for its planes but is only exploring new autonomous technologies[4]. Such auxiliary technology will support pilots, enabling them to focus less on aircraft operation and more on strategic decision-making and mission management. Also, Airbus is keen to explore the potential of such technology in addressing future challenges such as: improving air traffic management, addressing pilot shortages and enhancing future operations as well as improving aircraft safety[1]. In the future, Airbus is expected to use this technology for other manoeuvres such as automatic vision-based landing and taxi sequences.
Swiss bank UBS has also claimed that the transition to one operating pilot would lead to a cost-saving opportunity for the commercial jet industry of circa $15 billion in annual pilot, training, fuel and insurance costs [5].
Pager Power
Pager Power helps wind and solar developers resolve technical planning issues associated with radar, glint and glare, telecommunications and aviation. For more information please contact us.
References
[1] Airbus demonstrates first fully automatic vision-based take-off, Airbus, date: 16/01/2020, date accessed: 19/01/2020.
[2] AIRBUS A350 DEMONSTRATES AUTOMATIC TAKEOFF SYSTEM, Aaron Hilsz-Lothian, date: 17/01/2020, date accessed: 20/01/2020.
[3] AIB A350 F-WZGG 3nov14 LFBO-2, Gyrostat, date: 03/11/2014, date accessed: 20/01/2020.
[4] Pilots sat back and watched a plane take off entirely on its own as Airbus gets one step closer to fully self-flying aircraft, Thomas Pallini, date 17/01/2020, date accessed: 20/01/2020.
[5] Airbus releases photos of automatic takeoffs, David Reid, date: 16/01/2020, date accessed: 20/01/2020.